Posts Tagged 'Russia Investigation'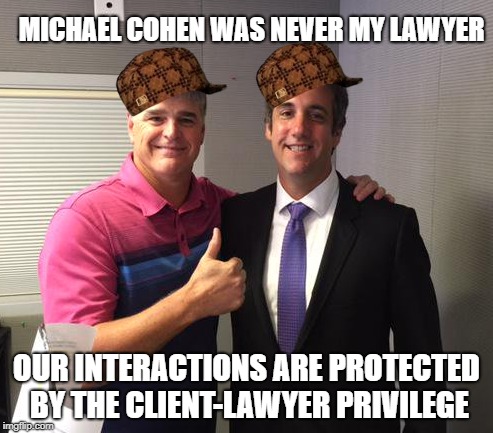 Hoo boy, it's going to be quite a news week even for this Dumpster Fire of an Administration. Here are just a few of the things going on:
And yet…the biggest news, in my opinion, is the testimony of Michael Cohen, who will be speaking both behind closed doors and publicly on Capitol Hill this week. Three days of Cohen, who literally knows everything bad Drumpf ever did, and Democrats hearing it and being able to take action! That is something amazing indeed.
Now it's true that Cohen has this small issue with credibility, since he's pleaded guilty to lying to Congress already. No worries, though. Apparently, Mikey has receipts.
"I'm told Cohen has been prepping with this for a long time, and he knows he's got credibility issues, so he's coming with documents," Dilanian said, "and he's got very detailed, sordid and, what (attorney) Lanny Davis has described as chilling stories of what how the president conducts himself behind closed doors."

"We shouldn't underestimate how powerful seeing a Trump insider who has been with Donald Trump for more than 10 years telling these stories before the glare of the television lights," he added.
In today's world, where the news cycle has shortened to 60-minute intervals and we're all dizzy and dispirited from trying to keep up, it's hard to predict what will land on Trump, the most Teflon-coated criminal President since Ronny Raygun. Somehow I think, though, that what Cohen says will be the last straw for many Republicans, and they won't come back to the fold once they jump off the TrumpTanic.
I guess we'll see, Widdershins.
This is an open thread.
Taxes
Country over Party
Six words, that's it.  If we're lucky, by 2018 we won't even need a noun or a verb to finish the thoughts.
Come for the chaos, stay for conflagration.  This is the Dolt 45 fine-tuned machine.
Yesterday's performance was a guided tour of Dolt 45's brain. In 77 minutes, he demonstrated what I have so inadequately tried to explain.  He is the San Andreas of emotional fragility.  He's not going to change.  You saw what stress does.  Behavior patterns become more pronounced.
Dolt 45 is not crazy.  He's a 70-year old man who has never worked an honest day's work in his life who likes to watch television and tweet.  He believes he's infallible because he doesn't know what the word means.
Setting up warring factions in the White House ensures he is the eye in a hurricane of chaos.  It provides him the self-esteem he so desperately craves and the charade of power sustaining his veneer of legitimacy.
Let me try to explain.  Think about the best, mind-blowing, earth-moving sex you ever had.  That is what yesterday's press conference was for the citrus pustule.  As he said, "I'm having a good time doing it."
Here's what I know from studying leadership.  Any organization centered on charismatic leadership (personality-centric) rests upon clay feet.  It is like the Platte River – a mile wide and three inches deep.  It evaporates in the least bit of heat.
Crises are not planned via e-invites.  They are coming.  Whether it is a natural disaster, a Horizon oil spill, an incident in the Strait of Hormuz, or a terrorist attack, the time is ticking down.  It won't just be a failure; it will be a Category 5, Frontline documentary fiasco.  Failure is simply the non-presence of success, but a fiasco is where anarchy apportions anguish and adversity.
This weekend troubles me.  It has been almost 84-years to the day since the Reichstag Fire.  It was a planned provocative act of arson to set emotions ablaze.  This weekend event in Florida has a certain suspicious air about it.  Nothing would change the media's attention faster than paid insurrectionists rioting at an event where Dolt 45 is whisked away by Secret Service.  Just sayin'.
Currently among Republicans, SCROTUS (So Called Ruler of the U.S.) is at a more robust approval rating than either Bush or Reagan was at a comparable time.  The symbiosis is complete.  Congratulations Dr. Frankenstein, it's a boy.
And this brings me to the Country over Party part of TRICOP.  Never before has the reverse concept been so clear to me.  I'm guilty of mindlessly accusing Republicans of prostituting themselves as Party over Country and Power over Country, but when a future drapery salesman from South Carolina is your party's lone moral compass, the GOP ain't exactly writing new chapters for Profiles in Courage.
Here's the takeaway:  The Republican Party will allow this orange stooge to do immeasurable harm to the country in order to eviscerate FDR's New Deal and Johnson's Great Society.
There is an ugly, angry, maniacal lust at work to deprive twenty million poor people of health insurance in order to allow the One-Percenters an obscene tax break.  I lack the intellectual capacity to understand that.  It isn't just the repeal of the A.C.A.  It is also a rollback of Medicaid that happens to be the primary financing mechanism for the country's nursing home/end of life care.
The gobsmacking piece of all of this:  To finance the lipstick for the piglet they are going to pass off as a "replacement," they are proposing taxing some portion of employer furnished health insurance.
Here are a few highlights from the first 25 days:
The first Republican counteroffensive against the War on Coal was signed into law this past week.  Coal mines will now be free to pollute some 6,000 miles of once protected waterways in the country.
For those poor, over-regulated, underappreciated oil companies, they will no longer have to report their payments to foreign governments.  Anti-corruption is so déclassé.
If you are keeping score, this weekend we will be spending $1,240,000 a day to protect Trump Tower with no one home, another $3.0 Million for another Mar-a-Lago golf outing, and about $200,000 for Uday and Qusay Trump to open their Dubai golf course.
Finally, if you are a policy wonk like me, we can be alarmed that Dolt 45 swatted away 50-years of U.S. policy supporting a two-state Middle East solution as easily as he would a Citrus Whitefly.  And if you were worried about that pesky dust-up over a "One China" policy, it seems to have ironed itself out quite coincidentally with the granting of Chinese Trump trademarks.
For those 70,000 under-educated white guys in the upper Midwest:  Is America great enough yet?
What's on your mind today?  Spasibo.  Never too early to learn some Russian.