Posts Tagged 'Robert Mueller'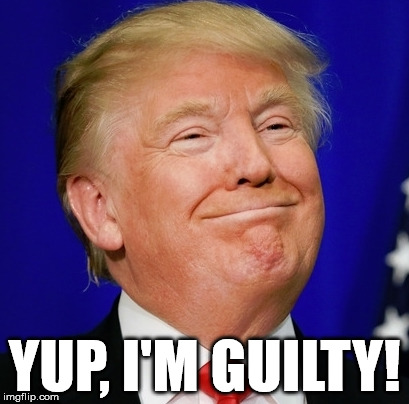 Well, it looks like Barr is doing the job Drumpf hired him to do. He is whitewashing and weaseling and trying like hell to protect the criminal and his cabal currently sh*tting all over American democracy. His four-page summary left much to be desired, and quoted not a single full sentence from the Mueller Report. And the Democrats are determined to get the full story.
The Democratic chairmen of the House Judiciary, Oversight, Intelligence, Financial Services, Ways and Means, and Foreign Affairs committees have written a letter to Attorney General William Barr requesting that he submit the full Mueller report to Congress by April 2.

What they're saying: "Your four page summary of the Special Counsel's review is not sufficient for Congress, as a co-equal branch of government, to perform [our oversight activities]. The release of the full report and the underlying evidence and documents is urgently needed by our committees to perform their duties under the Constitution … To the extent that you believe applicable law limits your ability to comply, we urge you to begin the process of consultation with us immediately in order to establish shared parameters for resolving those issues without delay."
So that's one thing the Democrats are doing. But it's clearly not enough, so I would like to pose this question to all of you Widdershins out there:
What [Else] Should Democrats Do?
I think there are a number of avenues they can pursue.
Subpoena Robert Mueller. The DOJ might block it, but "what are they trying to hide" is a powerful question.
Turn their focus to other matters. There's an interesting argument at the link…and, I just read that now that Barr is in charge of the DOJ, all of a sudden they're cool to overturn the entire ACA. Seriously! This is truly horrendous, and it's happening right now, when no one is paying attention.

The Trump administration wants the federal courts to overturn the Affordable Care Act in its entirety, an escalation of its legal assault against the health care law.

The Justice Department said in a brief filed on Monday that the administration supports a recent district court decision that invalidated all of Obamacare. So it is now the official position of President Trump's administration that all of the ACA — the private insurance markets that cover 15 million Americans, the Medicaid expansion that covers another 15 million, and the protections for people with preexisting conditions and other regulations — should be nullified.

When combined with Trump's endorsement of the various Republican legislative plans to repeal and replace Obamacare and other regulatory actions pursued by his subordinates, the Trump administration's clear, consistent and unequivocal position is that millions of people should lose their health insurance and that people should not be protected from discrimination based on their medical history.

Continue to investigate. In the absence of any real insight into what Mueller found, the Democrats seem to be committed to continuing to probe the most corrupt administration in history.
Something else. Any other options you can all think of!
What do you think, Widdershins?
This is an open thread.
Things are moving. Faster and faster. Say what you will about Bob Mueller, but his investigation is moving faster than anyone couple have expected. Republicans in Congress may try to interfere in his investigation – from Nunes to Paul Ryan himself – but it's not stopping Mueller himself. Aside from the guilty pleas and plea bargains – and Manafort's trial already under way – he has now seems to have flipped Trump's personal lawyer, his fixer-upper of many years, Michael Cohen. Cohen has been cleaning up after Don for years; he knows where a lot of the bodies are buried, especially mistresses. It's why I remain puzzled why Trump seems to have abandoned Cohen after Mueller raided Cohen's offices and home. It seems to me that would have been the time Cohen needed to be reassured and protected. For some reason Trump decided Cohen wasn't worth saving. I don't know why… seems like he should have been one of Trump's personal priorities. Feeling abandoned, Cohen embraced his new role as an "honest man." He hired Lanny Davis to be his lawyer. Even Michael Avenatti considered representing him.
Among things Cohen has on Trump are tapes, many tapes of private conversations. And now Cohen says he is willing to testify that Trump knew about the Trump Tower meeting; he knew who was coming and the knew why. A lot rests on that meeting; it shows actual collusion. So far Trump maintains he had no idea it happened, even though his son, son in law and campaign manager thought enough of this meeting to attend it. Cohen says Trump knew. We know that Junior made phone calls to "blocked" numbers before the meeting and after it. And in the original statement written aboard Air Force One, Trump denied all involvement. That's the one a Trump spokesman quit over, claiming he feared what they were committing obstruction of justice. That's the one Hope Hicks said she'd make sure Junior was protected. All these things put together present a damning picture of Trump. He knew, of course he knew. There's no way he did not know. So he asked Russians for help, he accepted their help and he has spent every waking moment since then trying to cover it all up.
As Trump sees the circle closing in, how will he react? Will he lash out? If he lashes out (of course he will lash out!), who will he attack? Iran? Mueller? Will he fire Mueller? His lackeys in Congress tried to impeach Rosenstein, though they have since abandoned their articles of impeachment. The impeachment, with Jim Jordan at the helm, led Nancy Pelosi to state in a press conference that perhaps Jordan was trying to deflect attention from what's happening with him in Ohio. She threw that out there casually, as if the accusations against "Gym" Jordan were not very serious. It was a very clear threat. Pelosi will drag Jim Jordan. What will Trump do? What do you think, Widdershins?