Posts Tagged 'plays by madamab'
Merry Christmas Widdershins! Haven't done one of these in a while – I hope you enjoy it.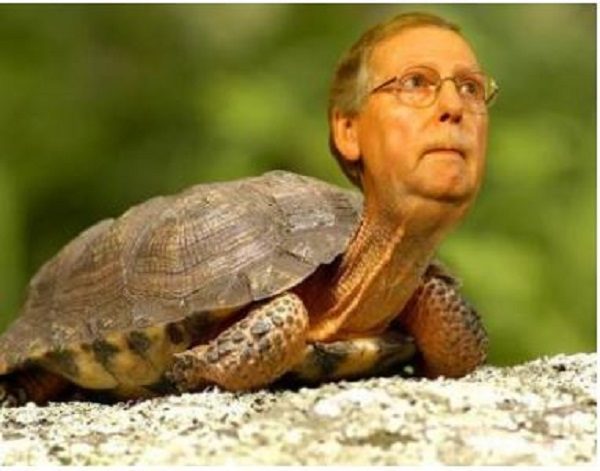 THE SCENE: Christmas Morning at the McConnell mansion in Kentucky. MITCH MCCONNELL, the Republican Senate Majority Leader, is lounging in his four-poster bed, dressed in Trump gold pajamas (100% polyester!) with the Trump logo on his chest. His wife, ELAINE CHAO, is lounging next to him. Her pajamas match, of course.
MCCONNELL (stretching comfortably): What a great night's sleep! (to ELAINE) You know, I was a bit worried I might get three, um, "visitors" overnight. Well, Merry Christmas to us!
There's a knock at the bedroom door.
MCCONNELL: Come in, honey!
SENATE AIDE #1 enters. She is young, blonde and Fox News friendly.
MCCONNELL (startled): Oh! I thought you were one of my daughters. Uh, how's it going, uh…Maggie?
(Her name is Mary.)
MARY (deferentially): It's Mary, sir.
(ELAINE, frustrated, lightly smacks MCCONNELL on the arm.)
MCCONNELL: Ahem, yes, of course, Mary. How can I help you? And a Merry Christmas to you, my dear.
MARY: Merry Christmas, sir. Sir, I wanted to let you know that I've just received word. The Washington Post has another scoop. It's…it's bad, sir.
ELAINE: Oh no. What has that orange idiot done now?
(MARY is shocked, then giggles a bit))
MCCONNELL (repressively): ELAINE!
ELAINE (repentant): Sorry, darlin'. I forgot we weren't alone. (to Mary) Go ahead, dear.
MARY: Well, um, it looks like he made fun of a child. See right here? He said that at 7 years old, it's "marginal" to believe in Santa Claus.
ELAINE (muttering to herself): Jesus f*cking Christ.
MCCONNELL: Elaine! (to Mary) Thanks for telling us, uh, Marjorie. Now scoot along. Go have some eggnog or something.
MARY (rolling her eyes a bit): Yes, sir. Thank you, sir.
(Mary exits, closing the door)
ELAINE (sitting up in bed): For heaven's sake, Mitch. That f*cking moron can't even talk to a child properly! Why don't you do something already? I'm almost embarrassed to be a Republican these days.
MCCONNELL: (placatingly) Now, Elaine, I know it's hard to take sometimes.
(He gets out of bed, pacing…the audience can see his Trump slippers)
MCCONNELL: But look – LOOK at all the power we have! And money…soooooo much money. That tax cut was very, very good to us. So what if the guy tweets every once in a while. We are still in great shape. It's never been a better time to be a Republican!
(There's another knock at the door.)
MCCONNELL: Come in, honey!
(SENATE AIDE #2 enters. She is interchangeable with Mary, but is wearing a different color mini-skirt.)
MCCONNELL: Darn it, when will Porter get here? (to AIDE #2) Uh, excuse me, sweetheart. Merry Christmas! What can we do for you?
SENATE AIDE #2:  Sir, the AFP is reporting that Erdogan has invited President Trump to Turkey. It sure looks like he and the President are doing some kind of deal together, especially since Turkey is moving into Syria already. There's also a lot of negative press about the General Mattis thing. I've checked the latest Presidential approval ratings, and they are, um, not good. 39%!
(ELAINE screams into a pillow) 
MCCONNELL: ELAINE! (to SENATE AIDE #2) Uh, thanks, my dear. There's some mulled wine in the kitchen, please help yourself!
SENATE AIDE #2 (puzzled by the lack of reaction): Uh, yes sir. Thank you, sir. Merry Christmas!
(SENATE AIDE #2 exits, closing the door.)
ELAINE (picking up where they left off, crossing to MCCONNELL): "It's a great time to be a Republican?" Are you serious? All those Never Trumpers are having a field day! That Jonah Goldberg, ooh, I could smack him. Even the MAGA morons are starting to wake up. And the liberals, well – clearly they feel vindicated. (sarcastically) You DID notice the 2018 election, didn't you? Did you see how many seats the Democrats gained in the House? That Pelosi woman —
MCCONNELL (interrupting superstitiously): She Who Must Not Be Named?
(ELAINE and MCCONNELL spit three times through their fingers)
ELAINE (continuing): ANYWAY, Ms. P is going to come after you with everything she's got. That Elijah Cummings has already sent over 50 letters about various new investigations he's planning on opening. You think Trump can survive all of this? Why are you still sticking by him?
(Another knock at the door.)
MCCONNELL and ELAINE (exasperated): Come in!
(SENATE AIDE #3 enters. Yes, she is interchangeable with Mary and #2, wearing yet another color mini-skirt.)
ELAINE (frazzled): What is it, Monica? Oh, Merry Christmas, dear.
MONICA: Merry Christmas, ma'am, sir. I'm sorry to disturb you, but it looks like another child has died in U.S. custody. (pointedly) That makes two.
MCCONNELL (showing the first signs of distress): Oh my goodness. That's very bad indeed. Uh – what happened, do we know? (eagerly) Can we blame the Democrats?
MONICA (dubiously): Well sir, it's not clear yet. If there's a particular border patrol agent who's responsible, I suppose we could find out how he voted in 2018?
MCCONNELL (wagging his finger): And 2016! If he voted for Hillary, we're home free. (more cheerfully) Thanks, darlin'! Go stand under the mistletoe in the great room, maybe you'll get lucky! (smacks her on the ass)
MONICA (shocked, rubbing her ass): Uh, thank you? (exits quickly, closing the door)
(ELAINE glares at MCCONNELL, shaking her head.)
MCCONNELL (dismissively): Oh whatever, she loved it. Now, where were we?
ELAINE (sighing): Mitch, honey. (taking his hand) Let's not fight. Just please tell me, for once and for all, what is going on? I am ready to quit tomorrow. Just say the word. This is the worst job I've ever had! I don't even think Trump knows my name. He keeps calling me "my Chinese friend." "Where's my Chinese friend?" he asks me. I'm from Taiwan, for heaven's sake!
MCCONNELL (coming to a decision): Elaine, I'm gonna come clean. The Russians gave me a lot of money to back that orangutan. I'm just not going to go against them, okay? That Putin is no joke. He kills people! Besides which, we can keep the Democrats in check with our increased majority in the Senate. They'll never get the votes to impeach him. We can stay on the Trump train and finally privatize Social Security and Medicare. Imagine, all the money pouring in! And, he'll get re-elected in 2020. Our Russian friends will take care of that!
(ELAINE shakes her head in disbelief.)
(MCCONNELL'S phone dings. He reads it, then throws it across the room.)
MCCONNELL: No, no, no!
ELAINE (concerned): What is it now?
MCCONNELL: MUELLER!
(ELAINE and MCONNELL spit through their fingers again)
MCCONNELL (pacing): Hannity tells me that Mr. M has got me – ME! on his Christmas list. He's going to  find out about my special friendship with Russia! (realization slowly dawning) Oh my Lord. Who's going to protect me? Trump will throw me under the bus faster than you can say "Michael Cohen!" He's never liked me, never! And Pence, he's useless. He's going to get indicted before summer comes.
ELAINE (taking him by the shoulders): Mitch, look at me. (he looks up, in deep distress) You cannot go to jail. You hear me? Daddy would be furious! (commandingly) You know what you have to do.
(ELAINE hands him her phone. MCCONNELL slowly takes it and dials.)
MCCONNELL: Hello? Special Counsel's office? Yes, Merry Christmas to you too (ELAINE puts her hand on his shoulder). This is Majority Leader McConnell. I'd like to speak to the Special Counsel, please…
(LIGHTS OUT.)
THE END