Posts Tagged 'Mitch Mcconnell'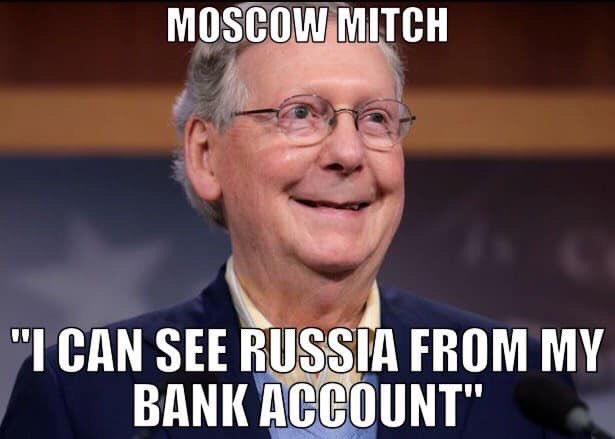 It's amazing. #MoscowMitch McConnell is no longer the Senate Majority Leader. Nothing he does can change that. Yet instead of lying low and playing nice after the horrendous nightmare of 1/6, he has done everything he possibly can to try to bully, threaten and render powerless the incoming Democratic leadership.
It hasn't worked. In fact, he had to cave on his "filibuster" of the organizing resolution this week, as he saw that Majority Leader Schumer was not going to negotiate. Period.
But somehow, McConnell is still seen as a force to be reckoned with. The Grim Reaper. The scary guy who always wins no matter what. In fact, the press scrambled to declare victory for Mitch despite his obvious fold. He got a commitment from Sinema and Manchin! they stated. He still won!
And Mitch gladly continued their spin.
McConnell warned Tuesday, as he has for months, that getting rid of the filibuster would fundamentally change the way the Senate operates for years to come.

"If the Democratic majority were to attack the filibuster, they would guarantee themselves immediate chaos," he said. "If this majority went scorched-earth, this body would grind to a halt like we've never seen."
Oh, would it grind to more of a halt than it was in the past 4 years? Is it possible for less than zero good to be done for the country? Because if it is, McConnell just threatened to make it so, Number One.
Now it's very clear from what Chuck Schumer said that the Democrats have not taken, and will not take, the nuke of the filibuster off the table. But more than that, he said that the filibuster isn't the point. There are many other ways for Democrats to get things done, and Mitch will not be permitted to dictate the way things go in the Senate from now on.
So what's going on? Why are journalists ignoring what Democrats are saying and doing right in front of their eyes, and allowing McTurtle to drive the narrative?
I call it the McConnell Myth.
According to the McConnell Myth, he's always in charge. He's got things up his sleeve, does Mitch. He's a master of manipulation, one of the most consequential Majority Leaders in the history of the Senate. He's always ten steps ahead!
But there's another point of view on McConnell. He seems to have a complete inability to "read the room," making it very clear that Republicans have no moral compass, no care for the well-being of the American people and no desire to do the work for which they were elected. He proudly killed 400 bills originated in the Democratic House of Representatives, showed rank hypocrisy and a complete lack of sensitivity when pushing through the horrifyingly unqualified Amy Coney Barrett to the Supreme Court, and after his Party perpetrated sedition and lost the Presidency, the House and the Senate (in no small part due to his hyper-partisan approach), was his first move to try to distance himself from Drumpf and the Nazis who follow him?
Why, no. His first move was to try to pretend he was still in charge, and it failed spectacularly. And his second move? Voting along with 44 of his closest Republican Senator friends to say that the current impeachment of Drumpf was unconstitutional, because Drumpf is no longer in office (praise the Goddess!). Why is the trial happening now instead of when Drumpf was in office? Because McConnell wouldn't let it happen. And is there any chance Americans won't remember that? No, there isn't – because it was less than three weeks ago!
Speaking of us Murkins – how is all this playing across America? Well, as we know the Rethugs lost power across the board in 2020, so that's not a vote of confidence by any means. But their personal nightmare is just beginning, as Americans continue to reject them and their agenda.
Wouldn't a smart, strategic former Majority Leader understand that his best chance to try to reclaim his tattered reputation is to kick the Mango Moron to the curb?
Mitch McConnell is not smart. He is not strategic. He is just amoral and willing to do anything to retain power. And now, inevitably, he has none.
Take the discussion where you'd like!