Posts Tagged 'Michael Cohen'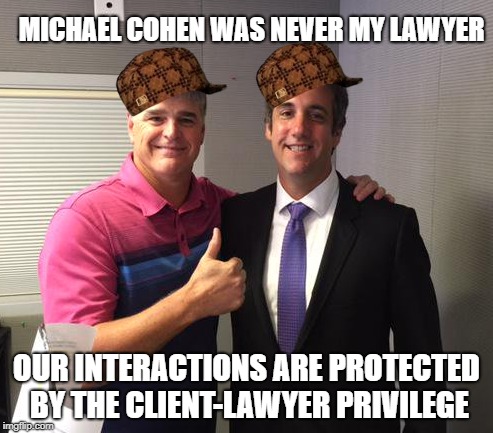 Hoo boy, it's going to be quite a news week even for this Dumpster Fire of an Administration. Here are just a few of the things going on:
And yet…the biggest news, in my opinion, is the testimony of Michael Cohen, who will be speaking both behind closed doors and publicly on Capitol Hill this week. Three days of Cohen, who literally knows everything bad Drumpf ever did, and Democrats hearing it and being able to take action! That is something amazing indeed.
Now it's true that Cohen has this small issue with credibility, since he's pleaded guilty to lying to Congress already. No worries, though. Apparently, Mikey has receipts.
"I'm told Cohen has been prepping with this for a long time, and he knows he's got credibility issues, so he's coming with documents," Dilanian said, "and he's got very detailed, sordid and, what (attorney) Lanny Davis has described as chilling stories of what how the president conducts himself behind closed doors."

"We shouldn't underestimate how powerful seeing a Trump insider who has been with Donald Trump for more than 10 years telling these stories before the glare of the television lights," he added.
In today's world, where the news cycle has shortened to 60-minute intervals and we're all dizzy and dispirited from trying to keep up, it's hard to predict what will land on Trump, the most Teflon-coated criminal President since Ronny Raygun. Somehow I think, though, that what Cohen says will be the last straw for many Republicans, and they won't come back to the fold once they jump off the TrumpTanic.
I guess we'll see, Widdershins.
This is an open thread.
Wednesdays are known as hump-days. Those dreadful days we suffer through between the terrible Mondays and much-anticipated Fridays. Something about the past few days has felt like a hump of the Dump presidency. We've been making our way to the top of the mountain – is it downhill from here? Of course, it is impossible to really tell. I certainly can't predict anything; I have been wrong before. But with Manafort's 8 guilty verdicts (or 10 mistrial verdicts, as Faux News and The Federalist like to point out) and Michael Cohen's guilty pleas – and, more importantly, saying that the candidate for office told him to commit crimes, thus making Trump an unindicted co-conspirator – something feels different today. It's not the actions of McConnell and Ryan. They are both trying to say as little as possible. Ryan's office released a statement that they're aware of Cohen's plea, but need to see more information (LOL). So that hasn't changed. Though the NY Times articles on how people in Ohio diners feel about these developments is still a few days away, I think we can safely assume they don't care about any of it and Trump's base remains very much intact. Orrin Hatch just told Jake Tapper that "I think [Trump] has changed a lot of his life once he was elected. I think Trump is a much better person today than he was then." So Republicans in Congress won't change their tune.
But something changed in how Democrats in Congress speak about Dump. Many have come out very strongly, directly and explicitly accusing Trump and his administration of being a "criminal enterprise." Nancy Pelosi tweeted very direct attacks on Republicans in general and I don't think I've ever seen that kind of language from her or most other Democrats. "The gross #CultureOfCorruption runs deep among Republicans in Washington," – Pelosi tweeted. And then: "Michael Cohen. Michael Flynn. Paul Manafort. Chris Collins. Duncan Hunter. Vern Buchanan. Scott Pruitt and the Trump Administration. The Republican Party looks like a criminal enterprise." This kind of directness has always been Republicans' ammo and Democrats have largely tried being polite. We know how that's worked out for us. It seems that Pelosi – and others – have finally smelled blood in the water and, thankfully, are not letting good blood go to waste.
Several people have now explicitly called Trump an illegitimate President. Democratic Senators have also now come out and said they will not even consider Kavenaugh for SCOTUS because Trump is an unindicted criminal and should not be allowed to appoint a SCOTUS judge. This is also different. Kamala Harris: "President Trump is an unindicted co-conspirator to a federal crime to influence an election for the office he now holds. He should not be allowed to name a Supreme Court Justice without resolving this accusation first."
So something is different. Do you feel it? Or am I being too optimistic?
This is an open thread.