Posts Tagged 'Media Malpractice'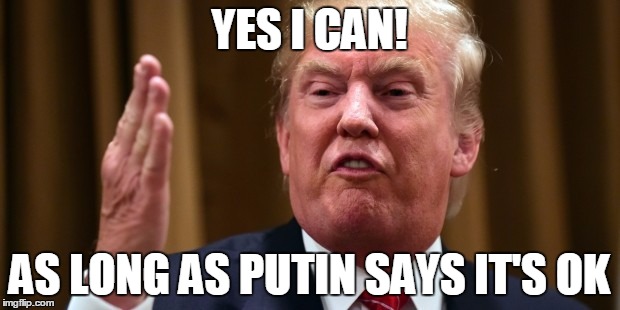 Well hello there, Widdershins. Apologies for the long absence, and thanks to DYB and Fredster for keeping our posts going!
Am I the only one who heard about the New York Times' report about the FBI investigation into Drumpf being a #RussianAsset last Friday and, far from being shocked or excited, could only ask, "And?"
As I have posted and commented repeatedly, there is no innocent explanation for what has happened in full view of the American people. None, zero, nada mucho. No other candidate has ever had contact with a hostile foreign government during an election; it has previously been unthinkable because all of our other candidates for President have been loyal to America. I mean, duh! That's the lowest possible threshold to meet when running for a country's Presidency! The Mango Moron, by contrast, is up to about 100 known contacts, folks. One. Hun. Dred. And it's only now that the Times report came out (most likely based on leaks by Democrats, as House testimony from 2017 was quoted) that the media is starting to come around to a common sense point of view.
What took them so long?
Let's do a bit of a thought exercise, shall we? Imagine the 2016 election is reset, and the feces-throwing baboon doesn't run. Instead of the Dicktater, we have a typically odious Republican nominee (like Ted Cruz) and Hillary Clinton is running against him. At the same time it's becoming known that Russia is interfering in the election on her behalf, the FBI suddenly discovers that Our Girl had just ONE contact with ONE Russian during the 2016 campaign.
It would have been extremely suspicious, of course. Republicans and Democrats alike would have had meltdowns, and the media would have (rightfully) tried and convicted her of corruption and treason prior to the election. (We all know they spent every day hammering her for a faux national security scandal, so what would they have done with a real one?!) If this imagined contact were known before the nomination were decided, there is not a chance in hell she would have become the nominee. If she had become the nominee before the imagined contact were discovered, she would assuredly have lost the election, and the Democrats would be a disgraced Party for decades to come. "Democrats in disarray," a constant Beltway narrative no matter what the circumstances actually are, would be playing on every channel. The follow-up questions would have been obvious. How could they have allowed this to happen? Who else in the Party knew, and when did they know it? How far into the Democratic Party has Russia reached?
Now let's come back to reality. Up till now, despite mounds of publicly available evidence that Russians, Trump and the GOP are all hand in glove, der Drumpfenfuhrer has been given the benefit of the doubt to a degree that I, as a human being with a functioning brain, simply cannot understand. Trump admitted to obstruction of justice to Lester Holt on national TeeVee, I have always believed; and according to the story, the FBI thought so too.
Agents and senior F.B.I. officials had grown suspicious of Mr. Trump's ties to Russia during the 2016 campaign but held off on opening an investigation into him, the people said, in part because they were uncertain how to proceed with an inquiry of such sensitivity and magnitude. But the president's activities before and after Mr. Comey's firing in May 2017, particularly two instances in which Mr. Trump tied the Comey dismissal to the Russia investigation, helped prompt the counterintelligence aspect of the inquiry, the people said.
Where has the media been? Why are they still inching up to the real questions that need to be asked…what did the GOP know about Trump's being a #RussianAsset, and when did they know it?
Maybe because they already know the answer?
As the indispensable journalist Sarah Kendzior wrote in December of 2017, the GOP is not going to get electoral power from their support of the Siberian Candidate. Yet Lindsey Graham has become one of his strongest supporters. Why?
Given that some of Graham's worst fears about Trump's Kremlin ties and mental state have been legitimized, what accounts for the senator's changed attitude toward the president? There are a variety of possible rationales available for conjecture, many of which apply to the GOP at large. Opportunism may play a role, as Graham complies with Trump in order to pursue right-wing extremist economic policies and war. Blackmail may also be an issue, given that Graham has admitted his email was hacked, as was the RNC's, by Russia. Trump has derided and threatened members of Congress and private citizens, and it's not a stretch to imagine him unleashing his fire– publicly or privately–on Graham.
Opportunism. Blackmail. Intimidation. Those are three good reasons. But what about corruption? The New Republic had the right take on this in May of 2017. Yes, they knew and they let it happen. They did. not. care.
The basic nature of the [Russian] pro-Trump subversion effort was known to GOP leaders before the parties' conventions last year: The above conversation took place on June 15 [2016]. Several weeks after the GOP officially nominated Trump in mid-July, in a secure setting with Obama administration officials and other members who receive classified briefings, Senate Majority Leader Mitch McConnell vowed to politicize any effort on the part of the government to reveal that Russian intelligence was intervening in the election to help Trump. "According to several officials," the Post reported, "McConnell raised doubts about the underlying intelligence and made clear to the administration that he would consider any effort by the White House to challenge the Russians publicly an act of partisan politics."

Despite Ryan's clear awareness of the truth, we can infer that he sided with McConnell, tacitly or otherwise, because the Obama administration backed down in the face of McConnell's threat. An official government assessment that Russia was helping Trump in the election didn't reach the public until after the election, as Trump was transitioning to the presidency.
So where has the rest of the media been? Even after the massive trouncing at the mid-terms, the media has failed to pronounce the doom and disgrace of the GOP as a Party. "GOP in disarray" is not a narrative I hear or see. Steve Bannon, somehow, continues to escape all blame and scrutiny; the latest major stories on him are from a year ago. How is he not as guilty as Manafort? And although this has not been noted anywhere other than Twitter, there is evidence that Mueller is looking into the media as part of his investigation. For example: Faux News has not tweeted since 11/8/18. Seriously. Isn't this big news?
As the inevitable downfall of Drumpf draws near, I hope the impending Mueller report includes some insight into why the media has been so reluctant to call out Drumpf for his treason, and the GOP for their knowledge of treason.
We deserve and need the truth about what has happened to the right-wing half of our two-party system. And one of the pieces of the puzzle is, what did the media know, when did they know it, and why are they still so unwilling to admit the truth?
This is an open thread.