Posts Tagged 'Hillary Clinton'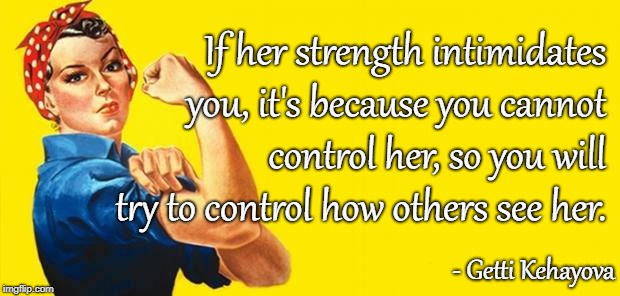 It's women who will be Drumpf's final downfall.
The Mango Moron could never handle women who refused to fall into a faint when he stalked into a room, curls of hair from his merkin floating daintily around him. And now that he's flunking the leadership test the coronavirus has presented, it's women who are calling him out for doing so.
First, Hillary Clinton trounced him in 2016. (No way he won the electoral college legitimately.) He has been obsessed with her ever since. When the Democrats took the House in 2018, Nancy Pelosi became the next powerful women to foil the Narcissist-in-Chief. Remember all the way back in January of 2019, when this country was reeling from a shutdown – and it looked like the government was never going to re-open?
Pelosi beat him like a drum.
Flashback 40 days and Nancy Pelosi's return to the speakership was a hard-won prize marred by Democratic grumbling.

After the midterm elections, 15 House Democrats signed a letter urging their colleagues not to support Pelosi for speaker: "We promised to change the status quo and we intend to deliver on that promise." To recapture the gavel, Pelosi had to promise to be a "transitional" speaker, and many Democrats felt she only regained the role because there were no compelling alternatives.

t's not that House Democrats dismissed Pelosi's skills as a legislator, but what they needed was an answer to President Trump, and that didn't seem like a role Pelosi was suited to play.

But in recent weeks, Speaker Pelosi proved a powerful foil to Trump, politically humiliating him in a way no other public figure has. Today, Trump buckled, agreeing to reopen the government in exchange for absolutely nothing, just days after he agreed to Pelosi's demand to postpone the State of the Union.
How did she do it? She understands Drumpf, as so many women have always done.
Pelosi has long held that Trump is weak, easily confused, and easily baited. That informed her strategy. Along with Senate Minority Leader Chuck Schumer, she baited Trump into saying, while the cameras were rolling, "I will shut down the government. I am proud to shut down the government. I will take the mantle." In interviews and meetings, she tweaked the president, calling the crisis "the Trump shutdown" to Trump's face and suggesting the billionaire thought furloughed workers "could just ask their father for more money." She was betting that Trump would overreact rather than turn her into the aggressor, and he did.
And that was just the first time she dominated him. There was, of course, the whole impeachment process, which the press seems to have forgotten as soon as the GOP acquitted him, but which We The People remember with deep gratitude.
So while so many men who should know better are are cowering and allowing themselves to be bullied into doing incredibly stupid things, women have decided they are not taking his sh*t anymore.
Case in point: female reporters, like Paula Reid.
Yesterday, the CBS reporter Paula Reid was determined to ask him about it at a White House press conference. "How do you close down the greatest economy in the history of the world when, on January 17, you have no cases [of Covid-19 in the US] and no deaths?" he replied. "On January 21, you have one case and no deaths. Think of that, we're supposed to close down the country?"

In the exchange, the president highlights his decision to close US borders to China, and suggests that Democrats, in particular Joe Biden, accused him of xenophobia at the time.

But Reid was not convinced. "The argument is that you bought yourself some time. But what did you do with that time? You didn't use it to prepare hospitals, you didn't use it to ramp up testing. Right now, nearly 20 million are unemployed, tens of thousands of Americans are dead," says Reid.
You want more? Okay, how about this? This article is from February and is really terrific; here are a few excerpts.
The most profound change in American politics today and in the years to come will result from a massive movement of women into the Democratic Party. As this realignment takes place Hillary Clinton may well go down in history as this century's equivalent of Al Smith. Al Smith was the Democratic nominee for president in 1928 and the first Roman Catholic ever nominated by a major political party. Although he lost the election, his campaign presaged the movement of Catholics into the Democratic Party in 1932 when Franklin Roosevelt won the Democratic nomination and the presidency. Smith's race was initially considered a failure, as was Hillary Clinton's. But her defeat has set off a chain reaction likely to lead to a realignment of party coalitions and relative political strength in 2020 as sweeping as FDR's victory in 1932.

[snip]

The shocking defeat of Hillary Clinton at the hands of the overtly misogynistic Donald Trump put the existing trend into hyper-drive. It broke upon the national scene in cities across the country with previously unseen numbers starting with the Women's March the day after Trump's inauguration. Then it surprised almost everyone when it led to the election of a Democrat to the Senate in Alabama in a December 2017 special election. That result, which stemmed in significant degree from defections of Republican women in the state's cities, suburbs and college campuses as well as a massive turnout of African-Americans, was quickly dismissed as an anomaly since the Republicans had nominated a sexual predator and pedophile as their candidate.

But no one could ignore the size and national impact the same shift had on the outcome of the midterm elections in November 2018. Exit polls that year showed women favored the Democratic candidate for Congress by 19 percentage points (59% to 40%), while men favored the Republican candidate by four points (51% to 47%). The resulting gender gap of 23 points was the widest one in the last twenty years.
I want to be clear here – I am not in any way disrespecting our wonderful Widdershin men, or any other men who are doing the right thing and standing up to Drumpf.
But damn, women are having a moment. And I am all the way here for it.
Tawk amongst yerselves!