Posts Tagged 'Breitbart'
Good morning Widdershins,
There's a storm coming, so I hope anyone being effected is prepared and staying warm! I think it's supposed to come to NYC as well, but honestly, since I'm working from home I'm not too concerned. Although my dog might not enjoy blistering walks (he likes snow.)
Speaking of storms, category 6 Hurricane Bannon hit the Dump White House yesterday. Excerpts from a new book by Michael Wolff, "Fire and Fury," were published in The New Yorker. (The book is already #1 on Amazon's best seller list.) Whether or not it's true (and there are reasons to question Michael Wolff's often imaginative imagination) isn't even relevant. I'm sure some of the stories are true and others are true in part. And it's not the stories themselves that matter, it's the fact that Steve Bannon told some of them them, Michael Wolff put them in a book, and Donald Dump thought they were true enough to release a blistering attack on Bannon (on official White House letterhead via Sarah Huckleberry), calling Bannon insane. Don Junior activated his attack mode and called Bannon a lying, backstabbing ingrate on Twitter.
Rebekah Mercer, the former actress (whose credits include "Xena: Warrior Princess) and evil billionaire who has been funding Bannon's Breitbart and the Dump campaign has, supposedly, severed all ties with Bannon. Which part of all this is not living up to Mercer's expectations, I don't know. I suppose she may have expected loyalty from a man she gave so much money to. Perhaps she expected honor among thieves? Dump doesn't have any; he has destroyed more people than one can count. But it will be interesting to see what happens in this angry divorce between Bannon and Dump. So much of their followers are the same people: alt-right, white supremacists. Arguably they were Bannon's first. He gifted them to Dump. Now they will have to choose sides. It's a real pickle they find themselves in… Who do you think they will choose?
And what does the GOP think about all this? Well, Mitch McConnell's official Twitter feed posted this creepy gif: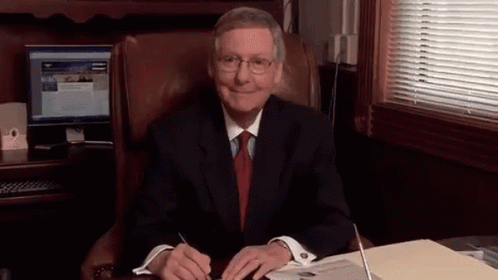 Draw your own conclusions. Everybody else has been strangely quiet. (But we can imagine their responses. For example, when asked about Dump's tweet threatening nuclear annihilation, Susan Collins said … "I'm going to vote" as she stormed away to vote on something. Bob Corker laughed and said he hadn't seen the tweet, but Trump will be Trump. LOL.) So as a Civil War breaks out in the GOP – what do we think Widdershins? What is Bannon doing? We know his real desire is to destroy everything. So are his opening shots at Trump a surprise? He built Dump and he will destroy him. What will Dump do in response? He's certainly going to do something… What will McTurtle do besides grin? Is this war good or bad for the GOP? And how will Democrats screw everything up?
I know only one thing: in 2020 Bannon will endorse Bernie Sanders for President. Mark my words.