Archive for the 'Immigration' Category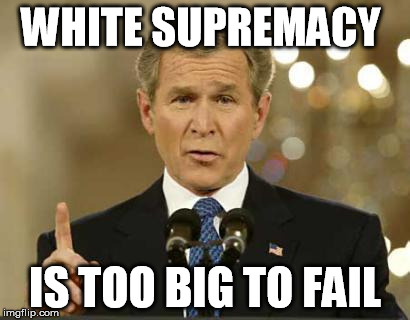 [Note: For those who want to help the people in the Bahamas post-Dorian, here are some resources for you.]
Last week, there was a development in the Mango Moron's war on immigration that was almost impossible to believe. The participants in the Medical Deferred Action program, children who need serious medical help to live, were, without notice, told that their status was not going to be renewed and that they had 33 days to get out of the country. If they stayed past that deadline, they would be deported.
For many of these children, that would be a death sentence. The cruelty could not be borne, and the outrage swelled throughout the country. The cries were so loud that even that waxy-eared orangutan masquerading as President blinked, hooted and threw some Twitter feces, and then began to amend the policy.
Here was Rachel Maddow's reaction when he did.
How did this unimaginable horror happen in the first place? For the answer, we need to look through the clarifying lens of white supremacy.
Good Tuesday, Widdershins! Today is a bellwether day because last night, Rachel Maddow finally stopped using the word "inexplicably" and used Occam's Razor instead.
In her opening segment, Rachel was highlighting the fact that Drumpf has a very large number of weak, "acting" cabinet secretaries and vacant deputy positions that haven't been filled. She then noted that this framework for governing concentrates power in the hands of the President. "There's a particular type of government that works this way," she said. "It starts with an 'a.'"
Indeed! Welcome to the autocracy party, Rachel. It's quite scary to admit what the end goal of Putin's Puppet is; kudos for starting to wrap your head around it.
The autocratic end game, however, cannot be won merely by eviscerating critical government agencies like the Department of Defense, Homeland Security, the EPA and so many others. What will really set the tone for declaring Trump King Forever is a determination that he is above the law. And from where I sit, he's trying his best to make that determination happen. Let me count just a few ways:
The tax returns. The chairman of the House Ways and Means Committee, Richard Neal, has demanded Drumpf's tax returns. The Mango Moron has refused, which is illegal. The deadline for turning them over to the Ways and Means Committee is Wednesday, April 10. If this goes to court, will he get a favorable ruling?
The family separation policy. One of the most Nazi-like policies this evil Administration has ever set in place, family separation was ruled illegal last year. But now, Drumpf is clearing house at DHS, firing Kirstjen Nielsen and others, and to try and find people who will impose the policy despite its illegality. He may have found at least one.


Though he may not be installed immediately, the Trump administration is likely to find a way to make sure [Kevin] McAleenan will step in for Nielsen on an acting basis, even if it means firing Grady. NBC News reports that McAleenan "has not ruled out" family separation as an option, and that he would consider allowing parents to bring their children with them into long-term detention as an alternative.

What happens if McAleenan does try to go ahead with family separation despite the judge's orders? Who will tell him he can't?

The Fake National Emergency. When Der Drumpfenfuhrer declared a fake national emergency at the border and started appropriating funds for his ridiculous wall, the Democrats sued him.


Trump declared a national emergency in February to shift federal funds toward construction of the border wall after Congress refused to provide him with the amount he requested.The initial standoff resulted in a 35-day partial government shutdown, the longest in U.S. history.

The complaint was filed one day after Speaker Nancy Pelosi (D-Calif.) announced that the House would sue the president to block Trump's national emergency declaration to build a wall along the southern border.

"The Congress has a solemn responsibility to defend its exclusive constitutional responsibilities, and protect our system of checks and balances," Pelosi said of the lawsuit in a statement Friday. "The very integrity of our democratic institutions are at stake. We will not let the President trample over the Constitution."
These are just three examples. Bottom line is, a Constitutional crisis could result from any of these. If the pResident decides to just brazen it out and declare he is above the law, will the Senate stand up to him? Or will they continue to demonstrate their moral decrepitude and lack of interest in our core democratic principles, and help him establish an autocracy in America?
I think we'd all better start stretching our leg muscles and ensuring we've got comfortable shoes. While I hope we won't need to, we must prepare to march to prevent Orange Caligula from consolidating enough power to destroy our country for the foreseeable future. Our activism may be the only thing standing between us and the "a" word.
This is an open thread.
Good day Widdershins!
MB is away for the rest of the week so I'm taking her Tuesday post, one day late.
With all of the news concerning tRump, Cohen, Flynn and the rest of the corrupt tRump tribe, it's amazing this story has already fallen by the wayside. However, that's the nature of the news cycle I suppose.
We already know the basics of the story.
Jakelin Caal Maquin and her father Nery Gilberto Caal Cuz were picked up in a group of over a hundred migrants in a portion of desert in New Mexico near a Port of Entry at Antelope Wells.
DHS *said* "Border Patrol agents screened the migrants to identify any health or safety concerns.".  Snort!  I just really have to wonder about that statement.  I dunno.
"The initial screening revealed no evidence of health issues," the DHS statement released Friday said. "During the screening, the father denied that either he or his daughter were ill."

Authorities said the denial was recorded on a federal form signed by Caal, who speaks an indigenous dialect.(Bolding, italics mine)

"At this time, they were offered water and food and had access to restrooms," DHS said.
So was there someone there with CPB that spoke this "indigenous dialect" to make sure the father understood?
Then they were prepared to be transported to a Border Patrol station near Lordsburg New Mexico. This was by bus and was done in two trips.  Jakelin and her father were in the second group to be transported.  When they arrived 90 minutes later at Lordsburg, the father told officials his daughter had stopped breathing.
Border Patrol emergency medical technicians began administering medical care and called an ambulance, according to DHS.

"At this point her temperature was 105.9 degrees," the DHS said. "Agents providing medical care revived the child twice."
I'm sorry but we've seen and heard too many things about DHS and CPB (Customs and Border Protection) so I take anything they say with one.big.grain.of.salt.
She was flown by helicopter to Providence Children's Hospital, and Border Patrol took Caal there by vehicle, a drive of more than four hours.

DHS said Jakelin was first taken to the emergency room and then transferred to the pediatric intensive care unit. She died at 12:35 a.m. on Dec. 8.
The hospital said their initial impression was that Jakelin died of sepsis.  And as the article states:
Sepsis is the body's extreme response to an existing infection somewhere in the body that can lead to rapid organ failure and death, according to the Centers for Disease Control and Prevention.
Okay.  I'm not a doctor or nurse, nor do I play one on the teevee and I haven't stayed at a Holiday Inn Express.  But I have to believe that she had to be showing some type of symptoms of this at the initial intake.  At the least it would seem her temp would have been elevated.  Perhaps our medical and scientific Widdershins can share their knowledge. And again, see my statement above about believing anything from DHS or CPB.
And for another kick in the pants, there's this:
Congress told it can't interview agents who detained 7-year-old migrant girl who died
Some members of the Congressional Hispanic Caucus were going to tour the Lordsburg Border Patrol Station and wanted to speak to the agents involved in this.  DHS said nope, nahgonnahappen.
Members of the Congressional Hispanic Caucus on Tuesday are scheduled to tour the Lordsburg Border Patrol Station in New Mexico, where agents took Jakelin Caal Maquin and her father after they illegally crossed the U.S.-Mexico border. The members had requested a chance to speak directly with the Border Patrol agents who arrested, detained and transported the girl and her father before she was flown to a children's hospital and died.

(snip)

"While DHS respects the oversight role of Congress, it is important to allow the review process occur unimpeded by politics," spokeswoman Katie Waldman said in a statement. "It is important to preserve the legitimacy of a fair and impartial process out of respect to the agents' lifesaving mission and the family of the deceased."
Unimpeded by politics.  Yeah right!  Glad we're gonna have a new Congress in January.
Open thread of course.