Archive for the 'Civil Rights' Category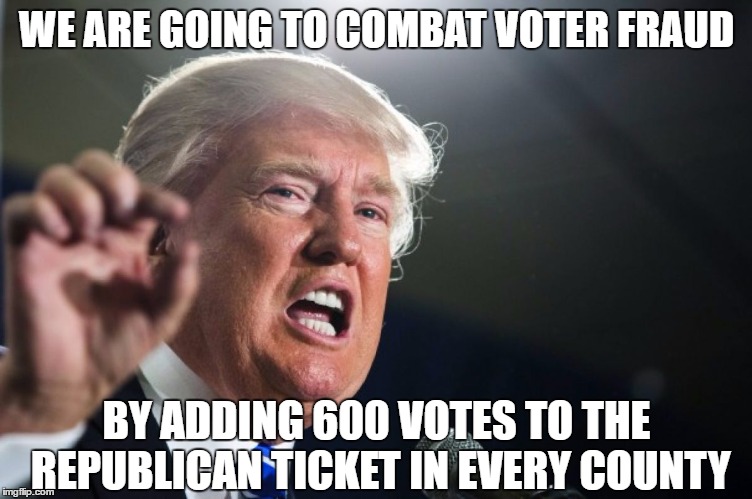 I'm going to repeat something that every Widdershin already knows: There is no significant voter fraud in America.
The Brennan Center's seminal report "The Truth About Voter Fraud" conclusively demonstrated most allegations of fraud turn out to be baseless — and that of the few allegations remaining, most reveal election irregularities and other forms of election misconduct. And numerous other studies have reached the same conclusion. In a recent report, "Noncitizen Voting: The Missing Millions," the Brennan Center debunked President Trump's claim that millions improperly voted in the 2016 election.
Yet, the topic of voter fraud always seems to be at the tip of Republican tongues, whether they be mouth-breathing MAGAs or petulant white, male, wealthy underachievers outraged that uppity wimminz and minorities would dare to vote against them.
Here's what Democrats should do every time a Republican shitbird starts talking about this long, long debunked fairy tale in which everyone loves him, he is married to June Cleaver, who vacuums in pearls and pumps, and no black people exist anywhere:
"It's not voter fraud that's the problem. It's Republican election fraud."
Then sit back and watch the exploding heads, because no. one. ever. calls. them. on. this.
Ever.
The way I see it, we have not had an honest federal election in this country since 2000, when Gore won the popular vote by 500,000 votes, but still did not become President, because, Florida. Remember Florida, where Dubya's paid operatives stormed down there in their Brooks Brothers shirts and demonstrated against the recount? And a Republican Secretary of State and Republican Supreme Court colluded to ensure that Bush won even though his margin was 537 votes?
Once that snarling weasel and his psychopathic VP took office, all bets were off. Electronic voting machines with no paper trails that switched votes to Bush from Kerry; gerrymandering and massive voter suppression became their M.O. And let's not forget the Republican-controlled Supreme Court, which gutted a critical portion of the Voting Rights Act, opening the door to election fraud that was previously illegal, but now could be considered to fall into a grey area.
Shelby County v. Holder, 570 U.S. ___ (2013), is a landmark[1] United States Supreme Court case regarding the constitutionality of two provisions of the Voting Rights Act of 1965: Section 5, which requires certain states and local governments to obtain federal preclearance before implementing any changes to their voting laws or practices; and Section 4(b), which contains the coverage formula that determines which jurisdictions are subjected to preclearance based on their histories of discrimination in voting.[2][3]

On June 25, 2013, the Court ruled by a 5-to-4 vote that Section 4(b) is unconstitutional because the coverage formula is based on data over 40 years old, making it no longer responsive to current needs and therefore an impermissible burden on the constitutional principles of federalism and equal sovereignty of the states.[2][3] The Court did not strike down Section 5, but without Section 4(b), no jurisdiction will be subject to Section 5 preclearance unless Congress enacts a new coverage formula.[4]

Five years after the ruling, nearly a thousand polling places had been closed in the country, with many of the closed polling places in predominantly African-American counties. Research shows that the changing of voter locations and reduction in voting locations can reduce voter turnout.[5]
But even with all of the storied examples of Republican election fraud, all of which continued in 2018, our current pResident took it to a level never seen in American history when he conspired with a hostile foreign government to steal the Presidential election of 2016. Let's face it, the Mango Moron did not win legitimately. Russia viciously attacked our election, influencing tens of millions of voters through fake news and bots on social media, hacking into Hillary's and Podesta's emails and leaking them for months, and invading voter databases, "not changing results." Sure, if I were an evil tyrant roaming around voter databases for months uncaught, and I wanted one candidate to win, I absolutely would not change a thing!
So the Democrats should start talking about this, loudly and often. Perhaps some already are.
This is an open thread.