Archive for the 'Breaking News' Category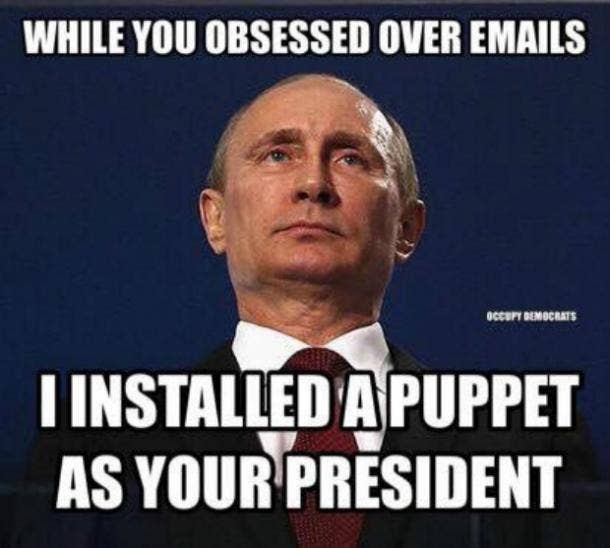 Hello, Widdershins. I hope you had a good weekend, and were not impacted by any of the fires, hurricanes and floods around the world!
A few months ago, Drumpf figured out that the Republicans in Congress were, in fact, not going to do a d*mn thing to stop his most irresponsible, dangerous and corrupt excesses. This was made very clear by the debacle over DACA, when he said "I don't care, I'll sign whatever you put in front of me!" and then immediately refused to sign the bipartisan deal crafted by the Senators whom he asked to craft a bipartisan deal. His fake agreeability effervesced into a miasma of white nationalism, aided and abetted by known xenophobes like John "Empty Barrel" Kelly, John "Let's Bomb All the Brown People" Bolton and Stephen "I Hate Myself" Miller. And what political price did he pay? None. Mitch McConnell mewled that he wished Dear Leader would make up his mind so they could slavishly create a bill tailored to his ever-changing whims, but that was the extent of the pushback from the GOP.
Once he realized that he had free rein, the crazy came fast and furious. The mad rush to throw any ridiculous lie out there to cover up the Cohen and Stormy Daniels disaster; the brazen continuation of the employment of scandal-plagued Cabinet members like Scott Pruitt, Betsy DeVos and Ben Carson; and the bizarre pretense of everyone in the media (SHAME ON YOU ALL) who have been acting as though it would be a wonderful idea for the Mango Moron and the dictator of North Korea to get together for "diplomacy." Please spare me the pathetic attempts to make this animal Presidential. What he and the North Korean dictator know about diplomacy would fit on the head of a pin, with ample room for as many dancing angels as you'd like.
And why does Der Drumpfenfuhrer have free rein? Because the GOP and its Con-Man-In-Chief are 100%, wholly-owned subsidiaries of Vladimir Putin. They are no longer Americans at all; they are slaves to the Russian agenda, which is to destroy Western democracy so that Russia can emerge ascendant, as it was decades ago before Communism destroyed it.
Publicly-available evidence that Russia owns the GOP keeps piling up. Right-wing media echoes Russian bots and Russia Today; Russian oligarchs are washing money through Michael Cohen and the NRA in exchange for friendly legislation and policies to benefit Putin; Putin's fake election is celebrated by "Do Not Congratulate" Donald; etc. etc. ad infinitum. And allies of Russia such as Iran, China and North Korea are suddenly getting much more consideration than our allies in Europe. Again, this is not hard to see or understand.
This, the treason of Drumpf and the GOP, is the only story that matters.
Porn stars, missing children, ICE brutality, plutocratic disasters like the #GOPTaxScam, the 23rd mass shooting IN 2018, widespread GOP corruption and Dear Leader's narcissistic tweets on Memorial Day; these stories are all subordinate. Thanks to Republican leadership's willingness to cooperate with our enemies for personal gain, our government now has only one (semi-)functioning branch: the Judiciary. The Executive and Legislative Branches are down for the count.
This is by design. Everything these #GOPTraitors do is for the sole purpose of taking down our democracy, in order to please their Russian master. There really is no other motive one has to look for; there is no head-scratching or tortured analysis needed. It's a simple story, although the implications are Brobdingnagian.
But once we truly get this in our bones – that this President and his Party are traitors – what remedy do we recommend? What action do we take?
This is the hard thing to solve. Yes, we can and will take back Congress. I am sure we are all focused on November 6, 2018, and plan to do everything we can to help get out the vote, all over the country. What are the next things we need to do after that, though? Assuming we take the House and begin impeachment proceedings, removal of the President requires 67 votes in the Senate. Are there any Republicans willing to sign up for that? If not, well…it ain't gonna happen, and Drumpf won't resign unless he sees a benefit to doing so.
I truly believe we cannot leave the future of our democracy up to Republicans in any way, shape or form. The Supreme Court, in its majority Republican configuration, has shown itself to be extraordinarily partisan, making decisions that only benefit Republicans (Bush v. Gore and Citizens United, anyone?). I don't trust them to do the right thing; no one should.
There are only a couple of exceptions to this "No Republican" rule: Robert Mueller and Rod Rosenstein. So far, Mueller's investigation has been extraordinarily quick, professional and thorough, and Rosenstein has protected him. What comes of that investigation, I think, is up to us. If we don't put on massive pressure, Congress won't act, the Justice Department may not act, and the Supreme Court certainly won't.
In my opinion, we need to start planning to be in the streets as soon as Mueller releases something definitive. This is the most important thing the #Resistance can do. We need to force the government to do the right thing. Let's think about how to make it happen – or, if anyone has heard of a demonstration like this already in the works, please share it here!
This is an open thread.