Archive for April 29th, 2021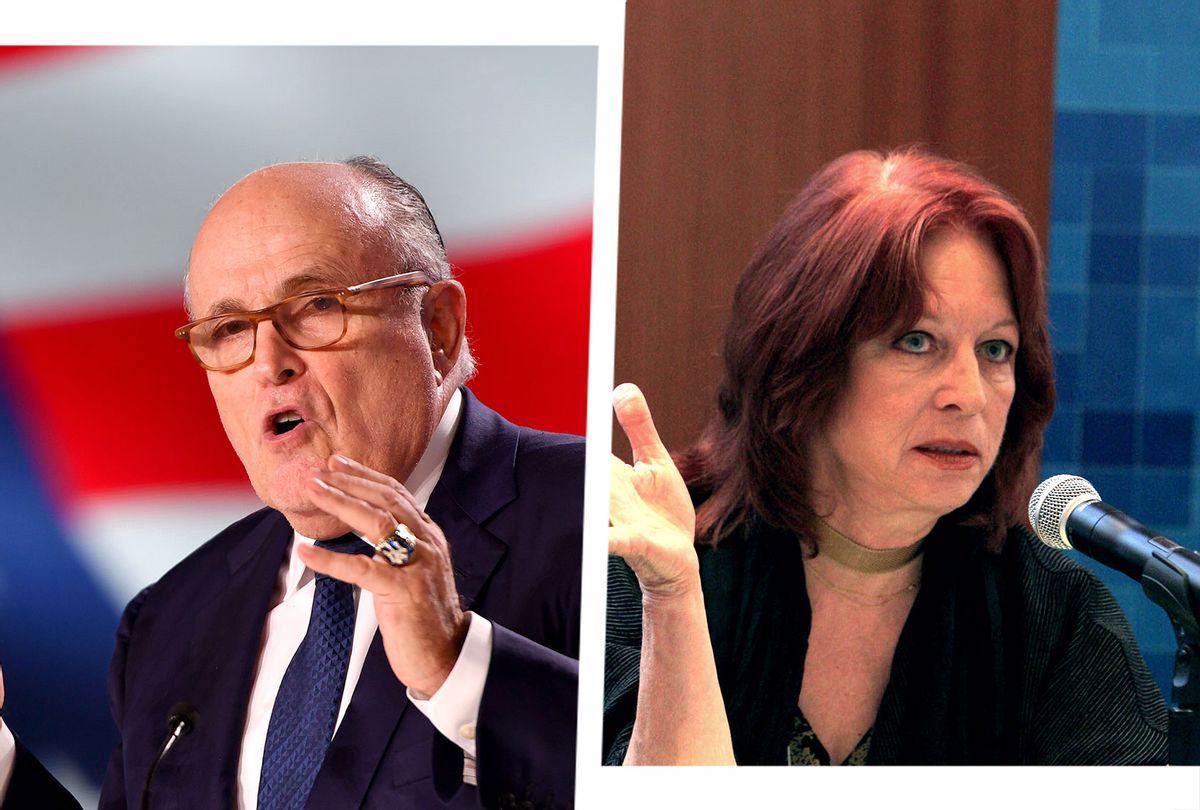 It's hard to imagine two attorneys who have been more harmful to the United States of America than Rudy "New York's Nosferatu" Giuliani and Faux News' Victoria Toensing. Between the two of them, they have helped Republicans perpetrate numerous and deadly crimes against this country.
Let's start with Rudy. As we have talked about for years at TW, Rudy was THE CAUSE of the terrible fallout of the attack on the World Trade Center on September 11, 2001. Countless first responders died on that day, and became ill and died later, because he moved the city's Disaster Response Center out of Brooklyn and into the WTC. He, of course, did this because he wanted to be closer to his mistress when he was doing the serious business of Mayorin'. And since then, this goo-oozing sycophant has done nothing but dive head down into the muck of wingnuttery and just keep swimming. He's been the mover and shaker behind so much evil:
The faux Hunter Biden story (now being used to justify his FBI-raided apartment)
The Big Lie that Drumpf won in 2021
Collusion with Russia in 2019 and 2020
Four Seasons Total Landscaping (okay, that one was just funny)
Yes, Rudy is a well-known and well-recognized goon for the Republican Crime Syndicate. But Victoria Toensing – she's flown a bit more under the radar. Here are some of her (and her husband's!) greatest hits. (Wonder what hubby's up to these days?)
You might not know them well, but without Toensing and diGenova, the most outlandish theories might not have found their way into the ether. Toensing's client and longtime friend John Solomon is the one who spread the rumor that Marie Yovanovitch, the former US ambassador to Ukraine, hated Trump; so-called "documentary evidence" of Joe Biden firing a Ukrainian prosecutor to protect his son had emerged in a case that both Toensing and diGenova are working on; and the couple have also alluded to the conspiracy theory that it was Ukraine — and not Russia — that meddled in the 2016 election by seeking to help Hillary Clinton. Often lording over the whole spectacle, in their telling, was Soros — the billionaire who has become a bogeyman for the right. (The line that he is seeking to run Ukraine, for one, could have come straight out of the mouth of Vladimir Putin.)

[snip]

Toensing and diGenova fortified their conservative bonafides throughout the Bush and Obama years, with Toensing particularly active. She penned op-eds in favor of the Patriot Act and in defense of the reporter who outed CIA agent Valerie Plame. She lobbied for the MEK, a violent fringe Iranian group, just as Giuliani has, as it sought to get off the US list of terrorist groups. She represented "whistleblowers" in the Benghazi hearings who accused Hillary Clinton, then secretary of state, of refusing to let them testify, as well as an informant who claimed to have information that Clinton had orchestrated the sale of part of Uranium One to a Russian company in exchange for donations to the Clinton Foundation (she didn't). She picked up Erik Prince as a client and took part in numerous Judicial Watch panels devoted to the subject of Clinton's missing emails. As the Trump era approached, both Toensing and diGenova found themselves more and more on Fox News, regulars on Sean Hannity (another Toensing and diGenova client) and Lou Dobbs.
I'll tell you, I am absolutely over the moon that these two traitorous morons are finally getting investigated by the FBI, now overseen at DOJ by the brilliant and most importantly, honest, Merrick Garland. Now all the crimes they were committing in plain sight will be thoroughly investigated.
Let's have the last Drumpf attorney who was investigated by the FBI, Michael Cohen, give the last word.
Open thread, as always.