Archive for January 2020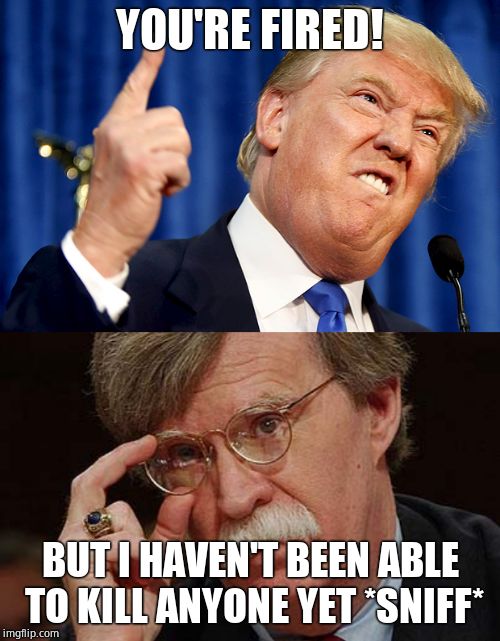 And walks out with proof the Mango Moron is a big ol' criminal. I mean, YUGE. The biggest! No one can crime like him. Believe me!!
Bolton, who left the White House in September — Trump said he was fired; Bolton said he resigned — did not respond to a question about whether he had used personal notes or official documents in his book.

The manuscript includes more than a dozen pages on Bolton's interactions over Ukraine with Trump, his personal attorney Rudolph W. Giuliani, Secretary of State Mike Pompeo and others, according to one person familiar with the project. In what this person called an "unflattering" portrait of the president, it also touches on other areas where Bolton is known to have disagreed with Trump policy decisions, including Venezuela and Turkey.
There is already so much coming out about this book. It's incredible.
And:
Details that became public Sunday from Bolton's unpublished book manuscript suggest that he could provide direct evidence that Trump sought to deny security assistance to Ukraine until Kyiv announced investigations into political opponents, including the Bidens. That linkage is at the heart of House Democrats' case that Trump abused his power in holding up the Ukraine aid for his personal political benefit and then obstructed Congress's subsequent investigation.

"I think it's increasingly likely that other Republicans will join those of us who think we should hear from John Bolton," Sen. Mitt Romney (R-Utah) said Monday, repeatedly calling Bolton's testimony "relevant." "It's important to be able to hear from John Bolton, for us to be able to make an impartial judgment."

Sen. Susan Collins (R-Maine), another key moderate, said the reports about Bolton's unpublished manuscript "strengthen the case for witnesses and have prompted a number of conversations among my colleagues."
I think it's safe to say that pissing off a belligerent wingnut who has more experience than Drumpf's entire Cabinet put together was NOT A GOOD IDEA.
But don't worry folks – Der Drumpfenfuhrer is on it!
In a series of late night tweets, Trump denied claims he told Bolton aid to Ukraine was tied to an investigation of the Bidens. "I NEVER told John Bolton that the aid to Ukraine was tied to investigations into Democrats, including the Bidens. In fact, he never complained about this at the time of his very public termination," Trump tweeted.
Well guess what, Donnie? You just destroyed any chance you might have had to claim executive privilege and stop Bolton from testifying. You truly are dumber than a brush full of J.B.'s mustache hair.
But now, the executive privilege argument is no longer available. Trump's tweets directly denying the substance of Bolton's reported allegations waive any privilege that might have protected them from public disclosure. Privilege is meant to keep a president's secrets confidential. If the president reveals those secrets or publicly discusses the conversations himself, there is no longer any need to protect them from disclosure.

Now that Trump has accused Bolton of lying about their communications, the time has come to put Bolton under oath and see what he has to say.
Yes, the time has come. And I don't think there's going to be much the Rethugs can do about it.