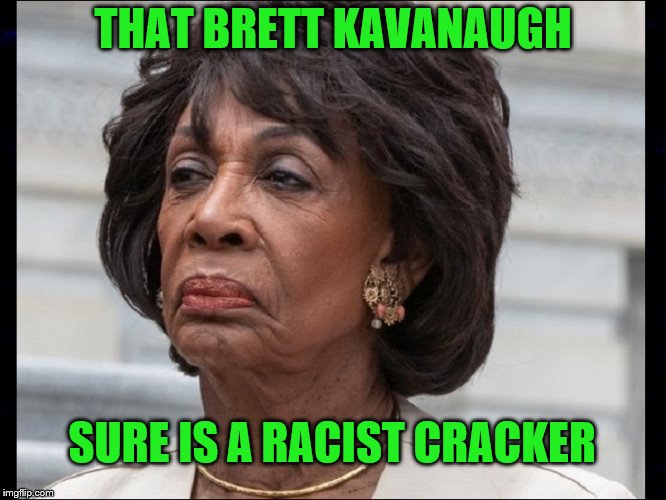 What a difference a week makes, eh? The common wisdom on Brett Kavanaugh, just a little while ago, was that the fix was in. Or as the Seattle Post-Intelligencer put it, "The fix is on."
The nomination to life appointment on the high court is being rushed through, by the same Senate Republicans who refused even to hold a hearing on President Obama's 2016 nomination of fellow appellate judge Merrick Garland to the high court.

The Senate Republicans are using Donald Trump, and Donald Trump is using acquiescent members of his party.

The GOP gets to lock in a Supreme Court majority that will rule for its interests and uphold rule by the privileged.

With Kavanaugh's confirmation, the politicized Roberts Court will have a solid majority to uphold gerrymandering of political boundaries and the rights of states to restrict voting rights. The lock-step majority will rule for business and further restrict legal rights of employees.
The person who wrote that was a man, by the way. Little did we know last week that there was a woman whose bravery in the face of unimaginable public scrutiny, much of it unhinged and hostile, would halt Republicans in their tracks. And now, stories like this are being written.
Unless Ford's allegations are discredited, it seems virtually unthinkable that the two moderate Republican women who hold the balance of power in the chamber—Susan Collins, of Maine, and Lisa Murkowski, of Alaska—would vote to approve Kavanaugh. As Collins walked through the airport in Washington, D.C., on Sunday, a reporter asked her if she believed the accusations against Kavanaugh. "I don't know enough to make a judgment at this point," she replied. Later on Monday, Collins issued a statement that said, "Professor Ford and Judge Kavanaugh should both testify under oath before the Judiciary Committee." Murkowski was less definitive. But, on Sunday night, she did say that the committee might have to consider delaying its vote.

Even the White House appears to have given up any hope of silencing Ford or dismissing her claims entirely. "This woman should not be insulted and she should not be ignored," Kellyanne Conway, a counsellor to Trump, told Fox News. "I think the Senate is headed to a reasonable approach in that it seems to be allowing this woman to be heard in sworn testimony, allowing Judge Kavanaugh to be heard in sworn testimony." Later on Monday, Donald Trump chimed in, saying, "I wish the Democrats could have done this a lot sooner. But, with all of that being said, we want to go through the process." He also said that Kavanaugh was "somebody very special" who "never even had a little blemish on his record."
Now, I've certainly had my share of incorrect predictions (some of which you've read here!), and I agree that at the time, it didn't seem likely that any Republican Senator would find the courage to deny Drumpf his puppet judge. I completely understand the tendency to assume that the Kavanaugh train was unstoppable. But the problem with that tendency is that, taken too far, it leads to despair, and despair leads to inaction.
I am optimistic by nature, and feel that there are very few problems we humans can't solve. Collectively, we have endless creativity, intelligence and energy, so really, is anything impossible? Sometimes my position is vindicated; sometimes my optimism gets me into trouble. 😉 A dear friend of mine at work once gave me this excellent piece of advice: "Just because you see a problem, doesn't mean you have to fix it." Wise words indeed, but hard for me to live by, especially in the time of #theResistance. I want to join everything, march every day, scream at the top of my lungs, rend my garments, tear my hair. Instead, I try to make my moves wisely. I march sometimes, I tweet, I blog, and I speak up.
What I really think this means is, we women are starting to flex our muscles in unprecedented ways. As DYB wrote last week, #MeToo is still cascading through our society, taking down the vilest and most powerful men in the world. And we're not done yet! We don't always know what to do with our new voices, and we are sometimes effective when we use them, and sometimes not. But no matter what, we won't be silent. And in 2018, there are a lot of men on our side! (Thank you so much, o wonderful Widdershin men and the millions of other good men out there!)
So don't despair. The conclusion is not foregone. If bad things seem likely to happen, find a small act of bravery to perform.
Who knows what will happen as a consequence?
This is an open thread.
32 Responses to "Activist Tuesday: Women Save the Day, Once Again"
Comments are closed.