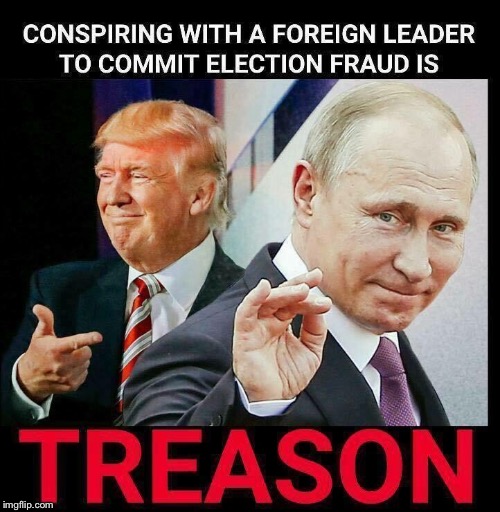 Yup. It's treason. It's been treason. It's ongoing treason. The Republicans know it. The Democrats know it. The 100-year-old hermit in the Himalayas knows it. Our allies and enemies know it.
Now what?
Well, we have to finally force the conversation that never should have been. Donald Trump should never have been the Republican candidate for President. The media should have destroyed his corrupt, treasonous ass in 2015. But alas, Hillary's vagina dentata was more frightening than the prospect of a corrupt, treasonous foreign agent in the White House…and now we're all paying the price.
We have to talk about things like, what is the next step if the Republicans decide that the only remedy we have for rogue Presidents, impeachment, is not going to happen?
We have to talk about the illegitimacy of the 2016 election, because the Republicans had the DNC's analytics handed to them, by Russia; stole voter data from at least one state board of elections; and hacked into voter databases. They had a blueprint to sway impressionable voters, and if they didn't sway enough, well, they'd just do the typical Republican thing and mess with the voting machines. It didn't take much…just 70,000 people in three states, out of about 120 million eligible voters.
Allegedly.
We have to talk about the fact that we have a President who is more loyal to Vladimir Putin than to our Constitution.
These conversations are unimaginable because they have never happened before. The difficulty we're having in imagining them, however, does not excuse us from the duty to have them. As Americans who love our country and revere the Constitution, this is a crisis beyond anything we ever thought possible. We must absolutely speak of these things and we must address them, quickly.
What will Republicans do? This is the most important question of our time.
If the Republicans will not impeach Trump for treason, then we must get in the streets until they are forced to do so. We cannot wait until November to fix this mess. The fish has rotted from the head, and we must get rid of every stinking trace of it before we can clear the stench.
This is an open thread.
56 Responses to "Activist Tuesday: WWRD?"
Comments are closed.