Archive for January 9th, 2018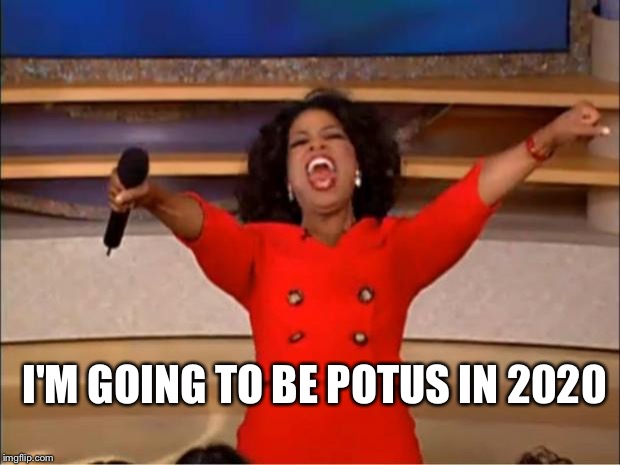 Well, well, well. Oprah gave a speech at the Golden Globes, and now, she's gonna be President in 2020! Indeed, she seems not just inevitable, but the best possible choice against Drumpf, if we believe the hyperventilating media.
The breakout star of the 75th Golden Globes has better odds to claim the White House than former Vice President Joe Biden, according to BetOnline, a prominent Internet gambling company.

The company is currently giving the former daytime television star 20 to 1 odds of becoming the next President of the United States. Those betting on Biden are given 25 to 1 odds. Some other contenders Winfrey topped were Mark Zuckerberg, Dwayne "The Rock" Johnson and Sen. Kirsten Gillibrand — all of whom were given 25 to 1 odds.
Or…maybe not.
Winfrey trailed other Democratic luminaries, including Sen.  Elizabeth Warren and Sen. Kamala Harris, both of whom had 12 to 1 odds. Leading the pack, of course, was the president himself, Donald Trump, who BetOnline put at 2 to 1.
D'oh! If we believe these guys, Oprah is a long shot at best, and the Mango Moron is a shoo-in for 8 years, no matter who runs in 2020.
So uh…what's going on here?
My musings are, we really don't know what 2020 will bring. There are a few factors we have to consider if we are going to indulge in this kind of pre-emptive prognostication. Come with me now into the future…future…future….
Q: In 2020, will Drumpf still be squatting in the Oval Office like an orange smushed on the carpet?
MB Says: No. I am almost completely sure that Drumpf will no longer be President, but when will his removal happen, and what will precipitate it? Will it be the Michael Wolff revelations, causing the conversations about the Mango Meerkat's mental stability to go mainstream, and to become too vociferous to ignore? Will the Republicans successfully navigate that particular storm, only to be toppled by #BlueTsunami2018?  Will Robert Mueller's investigation take down not just the corrupt POTUS, but the VP, others in his family, and Russia-connected members of Congress?
In 2015-16, everything changed. [Russian oligarch] Blavatnik's political contributions soared and made a hard right turn as he pumped $6.35 million into GOP political action committees, with millions of dollars going to top Republican leaders including Sens. Mitch McConnell, Marco Rubio and Lindsey Graham [emphasis mine].In 2017, donations continued, with $41,000 going to both Republican and Democrat candidates, along with $1 million to McConnell's Senate Leadership Fund [emphasis mine].
I believe that what causes 45's political demise will impact the 2018 mid-term elections, as well as the 2020 election.
Q: What will the narrative be for Drumpf as he crashes and burns?
MB Says: I don't know! I am sure that whatever it is, all the brand-new Democrats running will effectively weaponize it in order to win the House, and perhaps the Senate. But if he stays in till the Democrats impeach him, people may feel that Drumpf's issues were not due to his inexperience, but to his uniquely toxic mixture of corruption, obstinate stupidity and autocratic daydreaming. In an odd way, his impeachment may legitimize the choice of the Electoral College to install someone who has no clue what's he's doing as President. After all, other presidents who were impeached, or almost impeached, were legitimate. (I'm sure someone, somewhere, is thinking up that spin right now.)
On the other hand, if the 25th Amendment is used to remove him, Americans may look at Oprah or any of the other celebrities running, and say, "We tried the "no experience" thing and we got a complete whackadoo who won't let people change his sheets for him, who naps (come on, you know that's what "executive time" means) from 8 am to 11 am every day, and who freaks out on Twitter every five minutes. Thanks, but no thanks. Let's get someone in there who actually knows how the government works. Mmmkay?"
And that leads me to this question:
Q: What role will the media play in 2020?
MB: This is the $64,000 ($64B in 45's dollars) question. I have historically insisted, long and often, that the media has no power over Hillary Clinton. In one way, the election of 2016 vindicated my position regarding traditional media outlets; HRC won the popular vote, by a lot, despite the best and sincerest efforts of the Teevee and some papers (You know who you are, New York Times!) to cause her to lose. In another way, the election of 2016 demonstrated the awe-inspiring power of social media, which was expertly hacked by Russia to target persuadable voters and convince them that, at the very least, "Bernie wuz robbed!". Without these bots and troll farms, more Bernie/Stein/Johnson voters would have voted for Hillary, and even the #fake electoral college victory wouldn't have been credible.
The media problem we have is twofold.
First, all forms of media are now addicted to a political environment that changes every 20-30 minutes. The clicks and refreshes and subscriptions and views are off the charts for all cable news. If you have a non-celebrity Democratic candidate in 2020, who would just happen to make a great President, will the media yawn and give other candidates, perhaps other Republican celebrity candidates (don't rule out porn and meth house maven Steve Bannon), the free publicity they gave the Orange Crusher?
Second, the media falls in love with folksy figures like Oprah. Look what happened with Obama (who didn't have 1/10th of Oprah's charisma, in my opinion)! The media swooned, and people fainted at his rallies. He had folksiness. The Donald, spoiled, entitled, rich sh*thead that he truly is, also knew how to fake it. Meanwhile, there was Hillary, much, MUCH better qualified, but without the innate sound-byting and messaging capabilities of either her 2008 or 2016 opponents. I continue to believe that Obama was a middling-to-poor President, and clearly, Drumpf is running away with the "WPE" title, vastly exceeding Raygun and Dubya in only his first year.  (So. Much. Winning!)But it hardly matters. If the media doesn't realize that the qualities of an exciting and charismatic campaigner are not the same as the qualities of a President who knows how to govern, we'll be hearing all about how Kamala Harris or Cory Booker "just don't have the passion of Oprah" or how Eric Swallwell (someone I'd like to see on one side of a ticket) "seems like too much of a white guy from Connecticut." Too smart! Too wonky! Yada yada f*cking yada.
As you can see, I don't have a lot of answers, only musings. I'll leave you with this one: My poli-sci professor friend asked me which celebrity I could see running as a Democrat in 2020, and I picked Oprah. So I'm not totally opposed to the idea (again: Voting for the D no matter who it is. Just wanted to say that for the record). My point is that now is wayyyyyyyy too early to be thinking about 2020. Let's get out the vote in 2018 and take our country back from the corrupt and cruel GOP, and kick Russia out of our electoral system once and for all.
What do you think?
I'm just going to throw Randy Rainbow's latest in here, because it's actually genius.
This is an open thread.