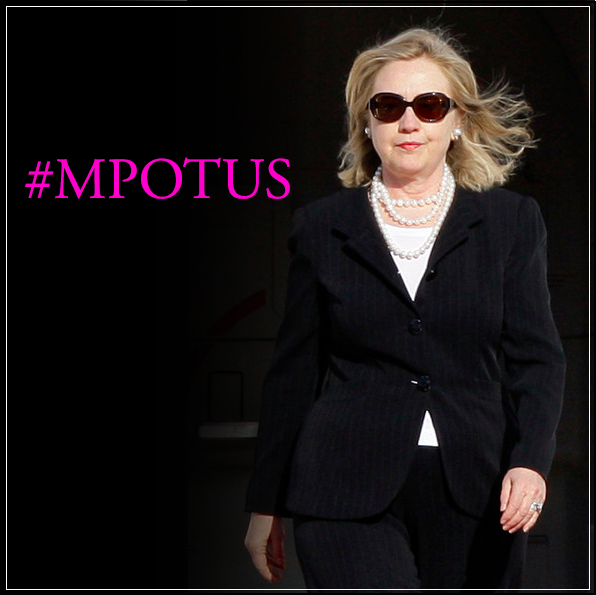 Good Monday, all! It seems truly unbelievable, but tomorrow is, in fact, Election Day 2016. For those of you freaked out by Fivethirtyeight's stats, giving the mango-colored monkey a better chance than any other polling place or analyst, well….don't be. Silver's model isn't up to the cray-cray of this overwhelmingly bizarre year. The three main reasons are: unwillingness to respond to polls, major growth in the Democratic populace due to support from white women, Latinos and Asian-Americans; and the huge numbers of people who have already voted (almost 40 million at last count), who aren't being counted.
I am not counseling complacency. Everyone should do everything possible to assure HRC's victory (I give our amazing SM credit for the huge upswing in the Hispanic and Latino vote in Florida!). But Drumpf's chances are so slim (he would have to win every swing state AND a blue state in order to get to 270, whereas HRC starts with 242 and only needs to block him in one swing state), that I feel very confident sticking to my prediction that on November 8th, we will be saluting Madam President.
It will be a historic moment that, after 2008, many of us felt we would never see in our lifetimes. The emotional impact of her election will cause seismic waves through the American electorate, and through the world as well. The most powerful, wealthiest and most resource-rich country in the world will finally be led by a wimminz! My mind, heart and soul all expand with joy over this uplifting end to this ugly, dispiriting and embarrassing travesty of an election.
What will happen on November 9th, and beyond? In order to understand what will come, we must write the true story of this election – at least, the true story as I see it. Below, for your entertainment and accompanied by all the usual caveats informing you that this is my opinion and your mileage may vary, is MadamaB's Not At All Partisan, Somewhat Brief History of the 2016 Election.
Part One: The Mango-Colored Monkey Wins the Republican Primary by…Appealing to the Very, VERY Deplorable Republican Base.
There is a nice, neat narrative the punditry has settled on: that Drumpf's base is white working-class voters, the so-called Reagan Democrats, who are rightfully upset about the way rich f*cktards like the Donald have been outsourcing their jobs. This is how the chattering class countered Hillary's absolutely correct callout of the racist, misogynist and xenophobic "deplorables" that make up the bulk of the Donald's supporters, because hey, they can't really admit what the Republican Party is about, can they? The Right is Always Right and Sensible, and the Left is always Wild and Crazy, and sometimes Corrupt – these are the articles of faith that the mainstream media subscribes to. Hillary's Inconvenient Truth was a terrible light that threatened to clear away the fog of disinformation they've been spreading for decades, and, well…they couldn't have that, could they? What would Chuck Todd and Wolf Blitzer and Joe Scarborough bloviate about for hours and hours every day if they couldn't make it seem like the Republicans had an actual, issues-based platform that appealed to the American People?
No, the reality is that Drumpf's support does not come from the white working class, but from the place Republican voters usually come from: the white middle-class. The only wrinkle in this case is that the white middle-class voters the Orange Crusher attracts are not college-educated. Ah, class snobbery: one reason the Beltway elites have all bought into the easily debunked narrative of the Circus Peanut's overwhelming working-class support, which I will now proceed to…easily debunk.
In "The Mythology of Trump's 'Working Class' Support," FiveThirtyEight's Nate Silver does some analysis that tears down the preconceptions about Trump's base. Polls have shown that Trump does better with lower earning, less educated voters. And indeed, Trump's backers are less well off than, say, those who voted for John Kasich. But as Silver shows, less well off than other Republican primary voters is still fairly well off. With some careful statistical work, Silver shows that the family income of the typical Trump voter is $72,000.

That's not wealthy, but it's clearly a middle-class income, especially in the parts of the country where Trump gathers his most devoted support. The voters who made Trump happen aren't, by and large, those who have been chewed up and spit out by the death of factory jobs. They are people who thought they'd met the requirements for success in the contemporary economy, and still find themselves losing ground.
Whoopsie!
This is why I firmly believe that you don't become a Creamsicle Cultist without an "ism." It's not economic anxiety that drives these people: it's cultural anxiety – as I describe it, the desire to return to the Fake Fifties in their heads, when white men were in charge and never married other men; when women never got uppity and were never in charge; and when black and brown people drank from different fountains and sat at the back of the bus. Disagree? Then why is a patently ridiculous, racist question the simplest way of determining whether or not a voter will go for Drumpf?
…According to analysis by Philip Klinkner of Hamilton College, the most accurate way to pick a Trump supporter is to ask him whether he thinks Mr Obama is a Muslim. A belief that he is—a common proxy for hostility to the first black president—was held by around 60% of Mr Trump's primary supporters. As a predictor of Trump support, it is "more accurate than asking people if it's harder to move up the income ladder than it was for their parents, whether they oppose trade deals, or if they think the economy is worse now than last year," wrote Mr Klinkner. "It's even more accurate than asking them if they are Republican."
Like I said…it's easy. Amazing how so few pundits bothered to try.
Part 2: #TheBernout Riled Up the Brogressives. Again.
Ah, the brogressives. We thought we had gotten away from these immature, ravingly misogynistic, HDS-suffering Cheeto-heads after they realized, a couple of years after his election, that President Obama didn't actually walk on water. But alas, they hadn't learned their lesson. They once again decided that an unqualified, slogan-spewing man who has accomplished exactly nothing in his Senate career, was far, far preferable to the most qualified candidate in known history. Because, you know, P*NIS!!!
While there was no chance whatsoever that #TheBernout was going to be the Democratic nominee (the man is not even a Democrat, for heavens' sake), he had a helluva run thanks to the "rigged" system that the Democrats set up. Due to the more egalitarian version of delegate math in the DNC, poor Bern-Bern was frequently awarded half of her delegates even when her margin of victory was overwhelming. Along the way, he pounded in this simple message: Hillary is a tool of the Establishment, whereas 74-year-old Sanders, a man who had never had a job other than being the lone Socialist in the senate, is not. Plus, she's in league with the big banks even though she has a better plan to break them up than he did. You can't trust her because she gave speeches to Goldman Sachs, even though she released her tax returns and he didn't. All of this patent bullsh*t was repeated constantly and without any vetting whatsoever, for several months; long past the time that the quixotic Socialist should have withdrawn.
Part 3: The Media Tries to Throw The Election to Drumpf.
I know that statement seems a bit extreme, but how else do you explain the media's seeming inability to cover this creature like the feces-throwing baboon he is? There is no circumstance under which this ignorant cretin could be considered a viable candidate for the office of the President of the United States. None. The media should have said that about 47 million times by now, and the number of people supporting the Donald should be down to approximately 12. But instead, the media rhapsodized about him non-stop for months, granting him over $2 billion of overwhelmingly positive reporting, all the while slamming Hillary every opportunity they had. While he claimed she is the "most corrupt candidate evah" and called her "Crooked Hillary," very few of them brought up the over 4000 lawsuits he has been involved in, nor the fact that on November 28 (20 days after the election!), the Trump University lawsuit goes forward. You know, the one in which he's charged with fraud and racketeering. How is that not corrupt? And what about his transition chief being dragged down by Bridgegate? No way Chris Christie survives this politically – except, perhaps, on TrumpTV.
Now, a few of them seem to have grown a conscience; but it's far too little, far too late for redemption.
Part 4: The FBI Tries to Throw The Election to Drumpf.
This seems even more of a questionable assertion, but…how else to explain the FBI's relentless digging into HRC's private email server from her time as Secretary of State? This was the topic of every news cycle for almost two years, but yet, it was actually nothing, as Matthew Yglesias exhaustively proved. Even the organization's last-ditch attempt on October 28, 2016, to smear Clinton as worthy of continuing investigation, which hurt her polling and enthusiasm numbers for almost a week, amounted to, again, nothing.
FBI Director James Comey informed Congress that upon review of emails related to Democratic presidential nominee Hillary Clinton's use of a private server, the FBI has "not changed our conclusions that we expressed in July "that no criminal charges are appropriate. The FBI's conclusion of the email review comes after the media breathlessly hyped extensive, doomsday-like coverage about the email investigation.

Comey notified Congress on November 6 that the FBI has "reviewed all of the communications that were to or from Hillary Clinton while she was Secretary of State," and that the review of related emails "obtained in connection with an unrelated criminal investigation" has led to no changes in the FBI's "conclusions that we expressed in July," when the FBI found that "no charges are appropriate in this case." NBC's Pete Williams reported that "nearly all the documents … were duplicates that the FBI had already seen in its investigation of the Clinton email server or were personal emails that had no bearing on the question of classification."
And I'm sure that whole FBI==>Giuliani==>Bannon==>"Clinton Cash" connection is, like, totally a coincidence. And I'm sure that their failure to sound the alarm about Pooty-Poot's connection to Drumpf is also, like, totally a coincidence. And I'm sure that they could not possibly have stopped or reported on the Russians' hacking into the DNC and the private emails of Clinton's campaign manager, John Podesta.
Uh huh.
Part 5: The Titanium Pantsuit Wins Anyway.
Here's the happy ending we've been waiting for: No matter what happened during this disgusting crotch-grabbing clownfest of an election, Our Girl stayed dignified, poised and in control. She knew we had her back, as did tens of millions of women, Latinos, African-Americans, LGBT, Muslims, Asians, millennials, and white men sick of the Circus Peanut's repugnant actions and rhetoric.  And at last, the American people are heard, and hello, Madam President!
Part 6: What Happens Next? Besides a Big Party and a Massive Hangover on November 9th.
I believe the vaunted Drumpf revolution will come to nothing, and that whether he concedes or not, November 9th will be a happy day for sane, non-deplorable Americans. So may it be.
Now, we know what Hillary wants to do in her first 100 days. What will she be able to do? That, in no small part, depends on us.
Here's what I propose:
We need to keep making the case for her policies here at TW, elsewhere in the blogosphere, on social media, and with our friends and family.
We need to ignore the media spin and counter it with the facts, because let's face it: the media will still hate her. She's still a woman and a Clinton, after all. Those things won't go away.
We need to push her in the right direction if she seems too ready to compromise, with calls, emails and petitions. (I used to do this when she was Senator in New York, and yes – it worked.)
We need to get out the vote in 2018, because to REALLY get down to business, she'll need a much more Democratic Senate and House.
I'll (finally) leave you with a few inspirational and satirical videos. Get out and vote tomorrow so #5 and #6 can come true!
This is an open thread.
80 Responses to "Activist Monday: Getting Ready for Madam President…"
Comments are closed.