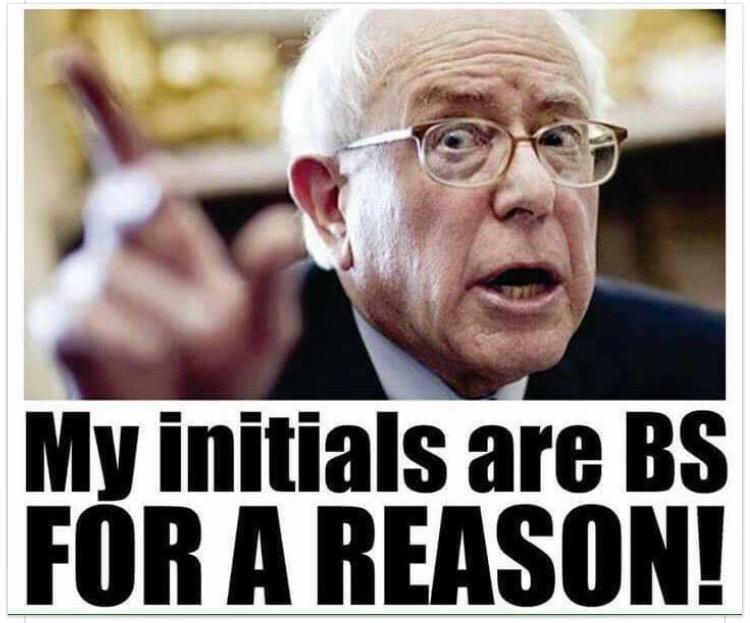 Good Monday, Widdershins. The weekend proved yet again that there is no bottom to the depths #TheBernout is willing to sink to, in order to cling, bitterly, to his blind, self-deluded ambition to be President.
Not only did Mr. Sanders call Hillary "the lesser of two evils," but he threw potshots at the chair of the DNC, as well.
Vermont Sen. Bernie Sanders on Saturday said he supports Democratic National Committee Chairwoman Debbie Wasserman Schultz's Democratic opponent in her August 30 primary, adding that if he is elected president, he would effectively terminate her chairmanship of the DNC.

Sanders, whose campaign has engaged in an increasingly bitter feud with the DNC chairwoman during his presidential bid, said in an interview set to air on CNN's "State of the Union" that he favors Tim Canova in Florida's 23rd congressional district. Canova is supporting Sanders.

"Well, clearly, I favor her opponent," Sanders told Tapper. "His views are much closer to mine than as to Wasserman Schultz's."
And…he's raising money for her opponent, too. Because hell hath no fury like #TheBernout scorned; his apoplectic choler seems to increase in inverse proportion to his growing realization that he has, in fact, lost the nomination. It doesn't seem to dawn on him that he's once again, targeting a Democratic woman who is very popular with her base, and whom he most likely cannot defeat.
…Democratic activists and operatives say that Wasserman Schultz remains popular in her South Florida district — especially among Democrats — where she remains an active and visible presence, despite her national profile. The district is heavily Jewish, and she is the only Jewish woman to represent the state in Congress.

Wasserman Schultz has had only one Democratic primary, in 1992, when she first ran for, and won, a seat in the state House. She successfully ran for reelection, then state Senate, then Congress, without facing any Democratic opponents. Each time, she easily dispatched her Republican opponents in the strongly Democratic district.
Honestly, I don't even know what to say to this latest series of nasty attacks, except that it seems clear why the oh-so-Independent Senator from Vermont has not accomplished one tiny piece of his agenda in the past 32 years. Because it certainly seems like he doesn't know how to work with anyone that disagrees with him without throwing rhetorical bombs and making empty threats he is powerless to carry out (no, Bernie, you will NEVER be President, so saying that you wouldn't re-appoint DWS doesn't impress.)
But what will she do? Will she take action against Bernie? While DWS has firmly denounced his lack of apology about the chaos his supporters provoked in Nevada, she has not yet moved to retaliate against his latest petty attacks. In fact, she recently wrote an open letter about how awesomely unified the Democrats are. Oy vey ist mir, Debbie!
You can't really blame the Democratic Party for not wanting to disturb the reality-challenged youngsters believing that if they just clap their hands, Tinkerbell Bernie's dead campaign will come back to life. After all, they've shown they can't be trusted to behave like grownups when they don't get their way. But at this point, it's just a matter of time till Bernie's 15 minutes of fame are over. And when that happens, don't expect Democrats to forgive or forget; and don't expect Sanders to survive another term in Congress.
In the meantime, till that convention happens in Philadelphia, let's stay strong for ourselves and Hillary. As Peter Daou of Blue Nation Review wrote,
So this is our admonition: a successful campaign requires our strength as well as Hillary's. We are backing the candidate who has more conviction, stamina, and intellectual willpower than all her rivals combined.

A bumpy summer lies ahead. Polls will bounce around. Pundits will predict doom. Opponents will savage Hillary's integrity. Lies and distortions will fly across social media. No one will be spared. Everything will be considered fair game.

But if we keep carrying Hillary on our shoulders, then long after we're gone, women and girls will look back at this moment in history as an inflection point when the impossible become the possible.
This is an open thread.
69 Responses to "Activist Monday: What Will DWS Do?"
Comments are closed.