So this is what the Grand Old Party has finally devolved into.  A group of four men of varying ages from their forties to their late sixties standing around making snide comments about dick sizes and making statements about the relationship between the size of their hands and penises.  Is Abraham Lincoln still lying in his tomb or is he busy trying to remove any relationship between himself and the term "Republican"?  So much for the party of Lincoln because these fools bear no resemblance to that individual at all.
 As James Hohmann wrote in The Daily 202 with the Washington Post opined:
The Republican Party does not look prepared to come out of the wilderness after eight years of Barack Obama.
That's the takeaway of many leading conservatives after last night's 11th Republican debate.
As he further opined, the divisions in the Republican Party suggest that there are deep wounds within the party and that those wounds are not anything that's going to heal anytime soon and that's good news for Democrats in general and Hillary in particular.  If you watched the debate (I didn't) or even if you caught some snippets of it on the news, do you really think Hillary will have any problems showing up as the adult in the room?  Nah, I don't either.  However, the Republican caterwauling about their own candidates mind you, got even worse.
Matthew Continentti of Free Beacon whimpered:
"The spectacle made me ill,"
On screen I watched decades of work by conservative institutions, activists, and elected officials being lit aflame not only by the New York demagogue but by his enablers who waited until the last possible moment to try and stop him."

And the Republican polling guru (but lonely guy) Frank Lutz could not report any good news out of the Debacle in Detroit.
22 out of my 25 focus group members said tonight's
#
GOPDebate
will hurt Republicans in the general election.
This has to stop. Seriously.
and:
Chris Wallace saying "gentlemen, you've got to do better than this" scored a perfect 100% with my
#
GOPDebate
focus group.
and further:
Words used by my focus group to describe tonight's #GOPDebate:
• disgusting
• embarrassing
• childish
• sophomoric
Get the idea?
Then there was Republican pollster Kristen Andersen who does something with millenials and tweeted:
We may as well cancel the rest of the debate bc we are now in a Mike Judge film and nobody's going to talk about anything but Trump hands.
And it gets better
These were the headlines from conservative media sites:
— Here's a sampling of how conservative media outlets are covering the debate:
National Review: "GOP Implosion Accelerates in Motor City Wreck."
FoxNews.com, "GOP breaks down in Motor City": "Much of the fight on the Republican side is centered on who can beat Clinton," Chris Stirewalt, the digital politics editor, writes. "The growing fear among GOP voters is that the answer might be: 'None of them.'"
Christian Broadcasting Network, "All That Was Missing Was Jerry Springer": "The Grand Old Party didn't look grand at all. Instead, they looked gross," writes CBN political correspondent David Brody. "Reince Priebus is faced with a crucial decision now: does he go with Tylenol or Excedrin? Which medication will take away this big fat headache?"
— The level of discourse slipped to a vulgar new low with Trump's braggadocio about being well endowed. "I guarantee you there's no problem," he said in a quote for the ages.
And of course I guess this was the highlight of the night: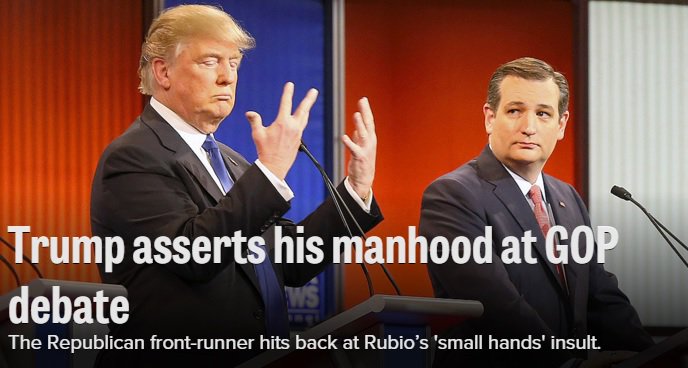 So I dunno.  On the one hand (lol!) I'm glad I missed it but then on the other hand (and another lol) it might have been worth watching just to see how incredibly childish these grown men became.  And all ofo them auditioning to become the leader of the free world.  That's scary.
Okay this is a completely open post and feel free to take the conversation in any direction you wish.  But please, no hand size comments nor anything about Romney being on his knees.  :o   That would take more than eye bleach!
A couple of youtubes, just because:
This song kept creeping into my head while reading the articles for this post.
84 Responses to "So this is what it comes to with Republican Debates"
Comments are closed.