Good Monday, Widdershins. I hope you all enjoyed the weekend.
You know how some Republican legislatures have a tendency to focus on issues that we might think are, shall we say, less than urgent? Well, thank goodness there's Montana to set the proper example for all of those wastrels of the public's time and money.
Prior to the convening of Montana's 64th Legislative Session, the Republican leadership has issued a new dress code for legislators and floor visitors alike, banning too low necklines and too high hemlines for women.

As noted by the Cowgirl Blog, the new dress code — printed in all-caps — states the members of the legislature are required to "dress in formal business attire," and "comport themselves in a manner that respects the legislative institution and that includes the formality of dress expected in the chamber."

(snip)

For women, "a suit or dress slacks, skirt, jacket, and dress blouse or suit-like dress" are appropriate. However, "flip-flops, tennis shoes, and open-toed sandals" are not allowed.

Additionally women are warned to be "sensitive to skirt lengths and necklines."
I wonder how this "sensitivity" is to be enforced? Are the Republican legislators to walk the floor of the State House with rulers to measure the amount of cleavage or leg displayed? I hope the fainting couch is available for those "men" and "women" whose delicacy is offended!
What is really strange about this is that the rules apply to "floor visitors" as well, which means that anyone who comes to the Lege (an intern, a reporter, a lobbyist, etc.) must obey these rules, or else face the wrath of the White and Uptight! As we all know, nothing is more terrifying than a Tea Partier in full moral froth…and in Montana, they might be be carrying concealed (although this would be illegal, thank goodness).
On Twitter, folks are having quite a bit of fun with attempting to imagine what attire would pass these strict rules. This is my personal favorite – from NARAL Pro-Choice MT: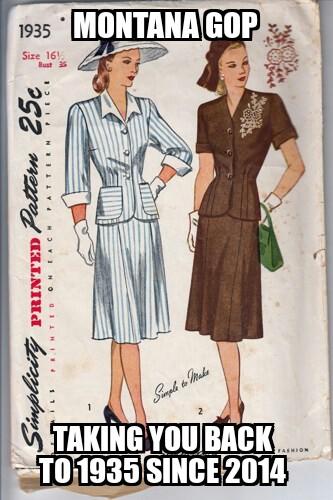 Over at Cowgirl Blog, where this story broke, it is noted that immodest and inappropriate clothing like leggings, cardigans and jersey (the fabric) are banned. (Seriously.) Since jersey can appear like silk or polyester, I wonder how those nasty old Goopers are going to figure out what portions of each woman's outfit are made of the now-illegal material? Maybe they will invest in one of these!
All I can say is, it's amazing how the GOP continues to focus on what's important whenever they're in power. I sure hope the good people of Montana are satisfied with this out-of-the-gate blooper from their elected Republican representatives.
Perhaps they should turn off their teevees before they open their sexist mouths again.
This is an open thread.
7 Responses to "Activist Monday: Focusing on What's Important…."
Comments are closed.